DODITAL

TREK
7 Days - 6 Night
10,750
INR
* GST @ 5% Extra
Ganesha, also known as Ganpati, is an elephant-headed Hindu deity of beginnings who is generally worshipped as a benefactor before major undertakings. Lord Ganesha, the divine force behind all the speculations and efforts, is said to have been born here in Dhundital or Dodital, which identically stands for the "Lake of Ganesha" or "Ganesha ka Tal."
10,750
INR
* GST @ 5% Extra
Day 1 – From Dehradun drive towards Uttarkashi
A drive through the narrow Ganga and Bhagirathi valleys leads to Uttarkashi. The path passes by Devprayag's holiest confluence of the Alaknanda and Bhagirathi rivers, where the Raghunath Mandir, a Lord Rama temple, was visited by the great Hindu scholar Adi Shankaracharya in 300CE. Uttarkashi is a town in India's Bhagirathi valley that has been a centre for learning and worship since the Vedic era! Many of the world's most prominent sages and saints have lived in this holy town. The town's name refers to its resemblance to and proximity to the city of Kashi (to the north) (Varanasi). Spend the night in the hotel.
Day 2 – From Uttarkashi towards Bhebra via Sangam Chatti 
After breakfast, drive for half an hour to Sangam Chatti. This is where the adventure begins. The path from Sangam Chatti climbs to the true right of the valley and proceeds to the village of Agoda, which is well marked. It's a 2-kilometer hike from here to Bhebra, an idyllic village nestled next to a gushing mountain stream and surrounded by green fields growing potatoes, beans, and the popular Rajma. With a soothing cup of tea and a cosy sleeping bag, soothe aching lungs and straining shoulders. Tents were used for dinner and the night.
Day 3 – From Bhebra towards Dodital 
The incremental ascent to Dodital, which follows a zigzagging course and gradually gains height, is a little easier than the previous day's backbreaking climb. With each step closer to the famous pool, the view becomes more appealing and scenic. The Asi Ganga appears as a thin rope snaking along its path in the valley below, and the track becomes very impressive as the mountain turns into a steep cliff face. The over-a-thousand-foot vertical drop creates an incredible sight. The entrance to the Dodital Lake, famed for Brown Trout and its religious importance, is marked by a final descent and the appearance of trees. Staying in a tent or a rest house for the night.
Day 4 – From Dodital towards Darwa Pass & Back to Dodital
Trek up to Darwa Top early in the morning with prepared breakfasts. Darwa peak is a 5-kilometer hike. The whole walk is a steep ascent. It begins with a climb up the feeder to Dodital, which leads to a dense birch forest that leads to the high meadows. Darwa top provides an amphitheater view of the Bandarpunch and Swargarohini ranges of hills, as well as serving as the watershed for the rivers the Yamuna and Asi Ganga. This day can also be spent sipping tea, catching up on local stories, wandering around the lake looking for birds, or just admiring the calm waters of the lake with the trout making an appearance. Trek back to Dodital for dinner and an overnight stay after visiting the Darwa Top.
Day 5 – From Dodital towards Bhebra
After breakfast, trek down to Bhebra, a 15-kilometer descent that includes retracing in the same direction but without sweat and discomfort. At Bhebra, you'll spend the night.
Day 6 – From Bhebra towards Uttarkashi via Sangam Chatti
We return to Uttarkashi by way of Sangam Chatti.
Day 7 – From Uttarkashi towards Dehradun
 Say GoodBye to memories and new friends. Return to Dehradun.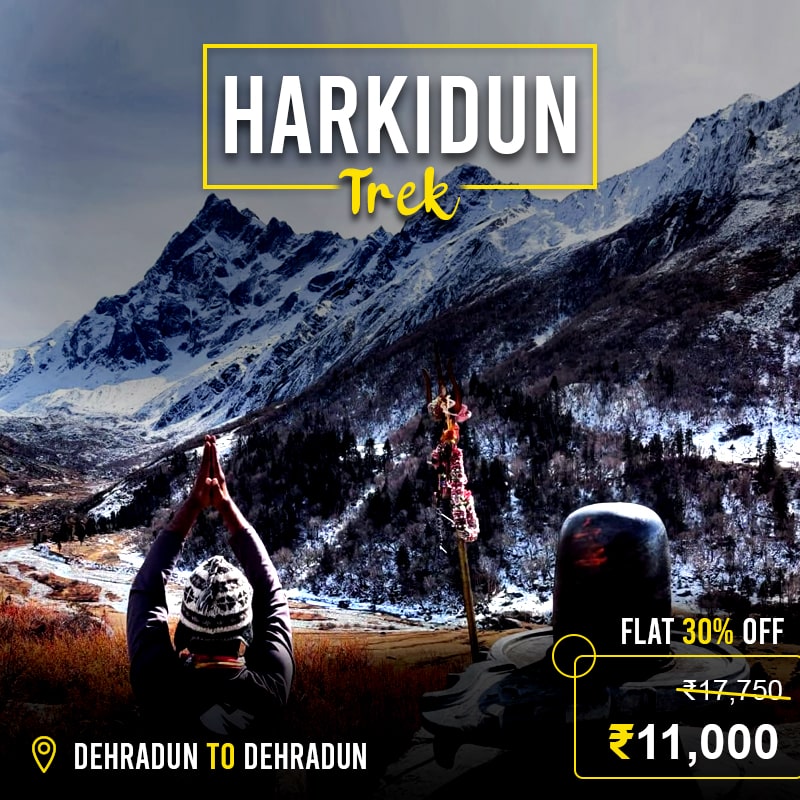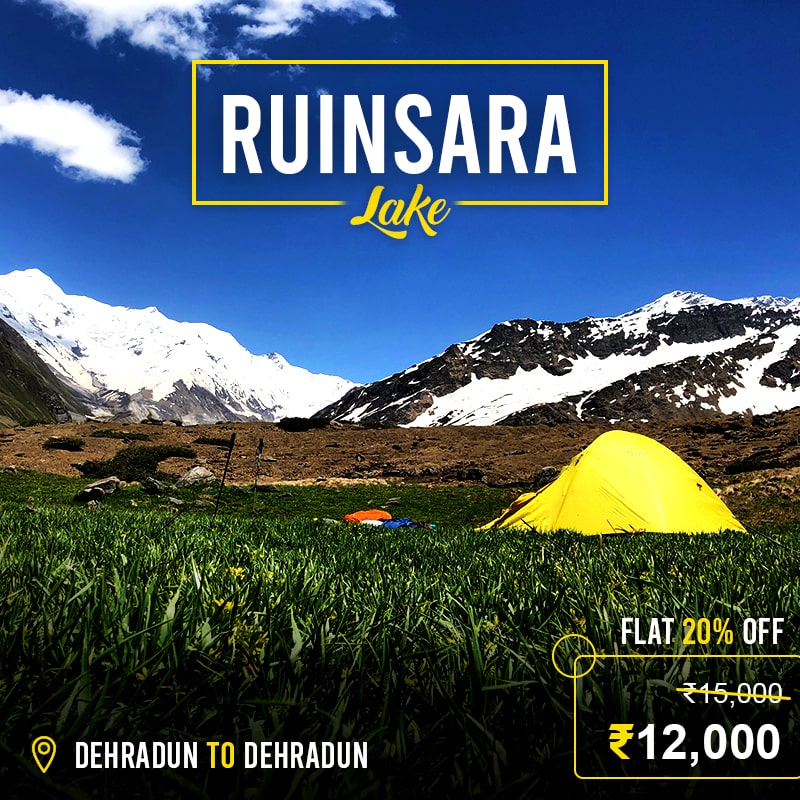 Frequently
asked

question
Footwear: The trekking boots which must be waterproof and snow proof, normal boots, floaters, and woolen socks.
Backpack: (50 ltr), Daypack (20-30 ltr), Duffel bag.
Clothes: Jacket and trousers that are both waterproof and breathable. Jacket (synthetic or down feather fleece), synthetic insulated trousers, poncho, sweatshirt, inner thermal (upper & lower), fleece, t-shirts, cotton trekking pants, shorts
Season wise Clothes:
Hand and head protection includes liner gloves, bandannas, sun hats, woollen caps, and face masks, among other things.
Accessories: Sunglasses/goggles, anti-glare lenses, water bottle, hydra bag, and headlamp with spare bulb and extra batteries are all recommended.
Trekking Gears: Toolkit for an emergency. Sunscreen, a toiletry pack, water purification pills, Ziploc packs, ear plugs, first-aid kit, and the necessary medications are all recommended.
 Camping Equipment: Sleeping bags of lining (extreme -5 to +5 Celsius if you have one), trekking sticks, and so on.      
Warm top/light micro fleece pullover/full sleeve T shirt – 2/3
 Water resistant/repellent trekking pants with an inner lining for added warmth- 2 High-quality windproof/water-resistant outer shell (jacket) with a proper hood
 Thick Fleece / Full-sleeve Woollen Jumper, Down Jacket with at least 600 fill capacity Innerwear with a thermal component (upper and lower)
 Woolen hat, inner fleece gloves, and outer water-resistant gloves
 4–5 pairs of thick woollen socks and standard socks, scarf/muffler (optional)
 Waterproof Trekking/Hiking shoes with a thick heel and high ankles that are comfortable to wear. Sneakers/sport shoes are ideal for camp.
Poncho or raincoat.  A small, light-weight towel
A hydration pack and an insulated water bottle (optional)
Sunglasses with UV cover and the potential to cut light, as well as a cap or floppy hat to shield the strong sun off your skin (important when traversing through snow)
Trekking pole or sturdy walking stick Lip Balm, Sunscreen Lotion
Flashlight / torch (with extra batteries) Medications, if any special prescription is needed Toiletries for personal use
Carry a rain cover over your luggage • Day pack/small bag that you can carry on your back all day to keep your essentials in
Keep a few poly bags or plastic containers in your bag to place your things in if you need to in case of heavy weather.
Personal Medical Kit (MANDATORY FOR ALL)
10 Diamox tablets (to prevent AMS)
Nifedipine – 5 pills Dexamethasone – one strip
6 tablets of Crocin (fever)
4 tablets of avomine (motion sickness) 4 capsules of Avil 25mg (allergies)
4 tablets of Combiflam (Pain killer)
6 tablets each of Norflox TZ and Lomofen (diarrhea) 10 tablets of Digene (acidity)
10 Omez/Rantadine capsules (antacids) 3 to 5 metres of crepe bandage
1 tiny roll of gauze 10 strips of bandage 1 small roll of cotton 10 packets of ORS
Moov spray Betadine or other antiseptic cream (aches, & sprains)
If you're vulnerable to knee injuries, you should wear a knee cap. Powder with antifungal properties
Cancellation: If a trek is cancelled at the last minute due to a natural disaster or unforeseeable circumstances (such as floods, earthquakes, landslides, attack, or bandh), Discoveryhike will have a trek voucher for the full number. The voucher can be used for the same or a different trek over the next year.
In case you wish to cancel the trek, then please be aware of these things:
Cancellations made within 30 days of the trek's launch date will include a complete refund.
If you cancel within 30 and 20 days before the hike, you will get a 50% refund.
There will be no refund if you cancel less than 20 days before the trek begins.
Please keep in mind that if you get a refund, there will be a reduction of 4% (Cancellation charges) from the overall amount you pay. In addition, if you purchased trek insurance, you would not get a refund.
Discoveryhike assumes no responsibility for any malfunction or injury to your clothes, supplies, or other belongings while on the trek. The trek fee covers all expenses associated with the trek from start to finish.