GULABI KANTHA

TREK
5 Days - 4 Night
6,750
INR
* GST @ 5% Extra
Gulabi Kantha is located on the way to Dodital, a freshwater lake trek. It is surrounded by lush green meadows, wildflowers, deodorant trees, Oak, and a diverse range of flora and fauna, providing trekkers with the opportunity to see nature's greatest spectacle.  Gulabi Kantha Trek is situated at an elevation of approximately 12,000 feet above sea level and offers a spectacular view of the Himalayan range, including Kalindi Sirkala, Bandar Poonch hill, Chaukhamba hills, and Shivalik mountains. Throughout the year, the area provides a variety of adrenaline-pumping events.
6,750
INR
* GST @ 5% Extra
Day 1: Reaching to the Hanuman Chatti 
Begin your first day by arriving at Hanuman Chatti, the Gulabi Kantha Trek's base camp. Hanuman Chatti is the starting point for more than seven to eight treks, including Fachu Kandi pass, Bali pass trek, and others, and is also an important part of the Char- Dham pilgrimage.
Before the trek, you'll be updated on the plans and other crucial information. After the trek, you will go to the Holy Shrine Yamunotri Temple on your own dime. The temple is located five kilometers from Janki Chatti and is open from April to May and closed from October to November. Following that, you'll have an organic meal and be able to watch the bonfire. To make your journey even more enjoyable, you will engage in amusing and meaningful discussions with your travel companions.
Day 2: Trekking towards Seema Thatch
Start your second day of Gulabi Kantha Trek with a delicious breakfast and then pack your bags for the ten-kilometer trek to Seema Thatch. On the expedition, you'll hike across a thick carpet of pine and maple leaves as well as dense woodland, where you'll be able to admire nature's beauty.
Lunch will be served until you arrive in Kandola (2:00 pm). After lunch, you'll resume your trip until 4:00 p.m., when you'll arrive at Seema thatch. You'll be escorted to your luxury tents and served tea and snacks. You'll still get an opportunity to see the sunset, and dinner will be served at 7 p.m.
Day 3: Trekking towards Gulabi Kantha and back to the camp 
Breakfast will be served on the third day of the trip, and you will depart for Gulabi Kantha (at 8:00 a.m.), a five-kilometer trek. You'll be served a packed lunch until you arrive at Gulabi Kantha (around 1 p.m.). Explore the area and take in the stunning views of snow-capped mountain ranges including Kalindi srikala, Bandar Poonch hill, Chaukhamba hills, and Shivalik mountains.
If you have your camera with you, you will take lovely photos to keep the memories of this expedition alive in your mind. Your guide will even teach you about Indian myths and how the locals survive under such harsh environments.
Day 4: Trek back towards Hanuman Chatti  
After breakfast on the fourth day of the Gulabi Kantha Trek, you'll switch from Seema thatch to Hanuman Chatti. At about 1 p.m., you'll be served a delicious lunch, and at 4:00 p.m., you'll arrive at Hanuman Chatti, the trek's base camp.
You can share your expedition's insight with your fellow party members and management, and you can even tell your operator if you have any suggestions. You'll eat dinner at 7 p.m. and relax by the bonfire while listening to calming songs.
Day 5: Departure from Hanuman Chatti to Dehradun 
On the fifth day of the Gulabi Kantha Trek, you'll leave Hanuman Chatti for Dehradun, bringing wonderful memories with you. Our team will then drop you off at the train station, where you will board the train and return to your hometown. This trip's memories will be etched on your mind for the rest of your life.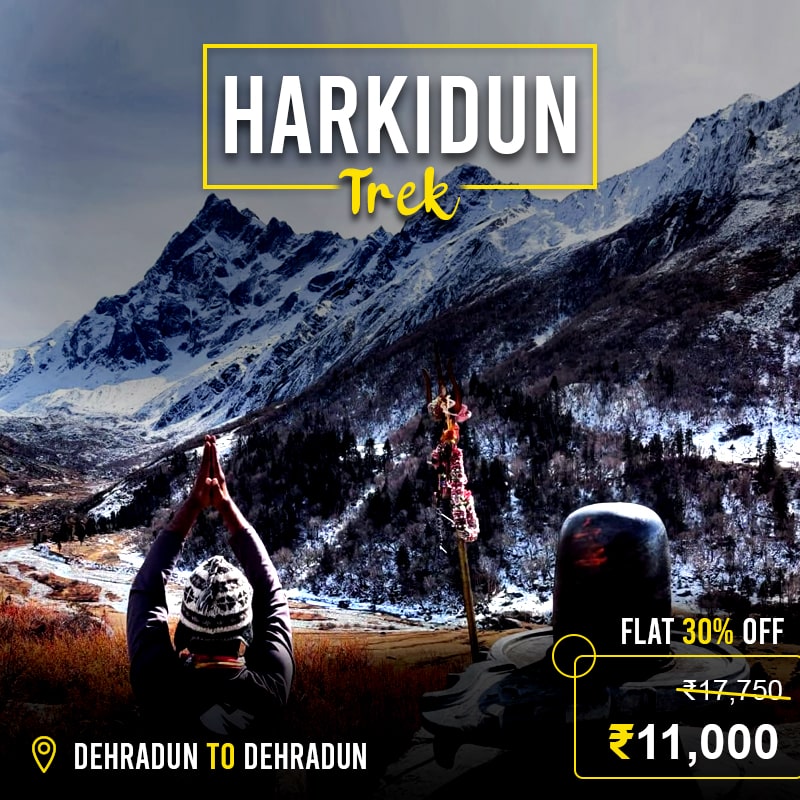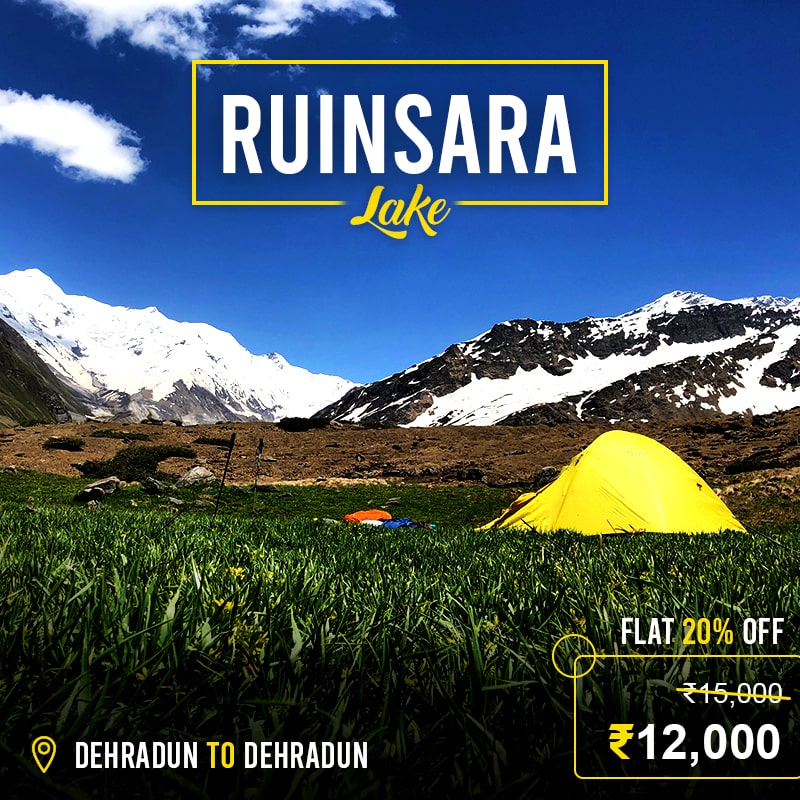 Frequently
asked

question
Footwear: The trekking boots which must be waterproof and snow proof, normal boots, floaters, and woolen socks.
Backpack: (50 ltr), Daypack (20-30 ltr), Duffel bag.
Clothes: Jacket and trousers that are both waterproof and breathable. Jacket (synthetic or down feather fleece), synthetic insulated trousers, poncho, sweatshirt, inner thermal (upper & lower), fleece, t-shirts, cotton trekking pants, shorts
Season wise Clothes:
Hand and head protection includes liner gloves, bandannas, sun hats, woollen caps, and face masks, among other things.
Accessories: Sunglasses/goggles, anti-glare lenses, water bottle, hydra bag, and headlamp with spare bulb and extra batteries are all recommended.
Trekking Gears: Toolkit for an emergency. Sunscreen, a toiletry pack, water purification pills, Ziploc packs, ear plugs, first-aid kit, and the necessary medications are all recommended.
 Camping Equipment: Sleeping bags of lining (extreme -5 to +5 Celsius if you have one), trekking sticks, and so on.      
Warm top/light micro fleece pullover/full sleeve T shirt – 2/3
 Water resistant/repellent trekking pants with an inner lining for added warmth- 2 High-quality windproof/water-resistant outer shell (jacket) with a proper hood
 Thick Fleece / Full-sleeve Woollen Jumper, Down Jacket with at least 600 fill capacity Innerwear with a thermal component (upper and lower)
 Woolen hat, inner fleece gloves, and outer water-resistant gloves
 4–5 pairs of thick woollen socks and standard socks, scarf/muffler (optional)
 Waterproof Trekking/Hiking shoes with a thick heel and high ankles that are comfortable to wear. Sneakers/sport shoes are ideal for camp.
Poncho or raincoat.  A small, light-weight towel
A hydration pack and an insulated water bottle (optional)
Sunglasses with UV cover and the potential to cut light, as well as a cap or floppy hat to shield the strong sun off your skin (important when traversing through snow)
Trekking pole or sturdy walking stick Lip Balm, Sunscreen Lotion
Flashlight / torch (with extra batteries) Medications, if any special prescription is needed Toiletries for personal use
Carry a rain cover over your luggage • Day pack/small bag that you can carry on your back all day to keep your essentials in
Keep a few poly bags or plastic containers in your bag to place your things in if you need to in case of heavy weather.
Personal Medical Kit (MANDATORY FOR ALL)
10 Diamox tablets (to prevent AMS)
Nifedipine – 5 pills Dexamethasone – one strip
6 tablets of Crocin (fever)
4 tablets of avomine (motion sickness) 4 capsules of Avil 25mg (allergies)
4 tablets of Combiflam (Pain killer)
6 tablets each of Norflox TZ and Lomofen (diarrhea) 10 tablets of Digene (acidity)
10 Omez/Rantadine capsules (antacids) 3 to 5 metres of crepe bandage
1 tiny roll of gauze 10 strips of bandage 1 small roll of cotton 10 packets of ORS
Moov spray Betadine or other antiseptic cream (aches, & sprains)
If you're vulnerable to knee injuries, you should wear a knee cap. Powder with antifungal properties
Cancellation: If a trek is cancelled at the last minute due to a natural disaster or unforeseeable circumstances (such as floods, earthquakes, landslides, attack, or bandh), Discoveryhike will have a trek voucher for the full number. The voucher can be used for the same or a different trek over the next year.
In case you wish to cancel the trek, then please be aware of these things:
Cancellations made within 30 days of the trek's launch date will include a complete refund.
If you cancel within 30 and 20 days before the hike, you will get a 50% refund.
There will be no refund if you cancel less than 20 days before the trek begins.
Please keep in mind that if you get a refund, there will be a reduction of 4% (Cancellation charges) from the overall amount you pay. In addition, if you purchased trek insurance, you would not get a refund.
Discoveryhike assumes no responsibility for any malfunction or injury to your clothes, supplies, or other belongings while on the trek. The trek fee covers all expenses associated with the trek from start to finish.