My Journey Towards
The Mighty


Black Peak Expedition
Where are going.... ??
Kalang... Black Peak....!!!
Yes, this was the question which was in everyone's mouth on 6th October 2021. I was on my way to Sankri from Dehradun and the first time I heard this question was in Mori and it kept on repeating over and over again and continued till we reached Sankri. Our transporter and guide from Discovery hike had only one answer to it and that was 'Kalanag/The Black Peak'.
Yes, we were going on an expedition to the mighty Black Peak or as the locals call it Kalanag. Talking about Kalanag, it is one-of-a-kind mountain with a summit height of 6387 mtr's (20955 ft's) above the sea level. The tallest and mysterious mountain in the Bandarpunch (Saraswati) mountain range of the Garhwal Himalayas, others being Saraswati Devi Parvat (Bandarpunch I, 6,316 m) and Hanuman Parvat (White Peak or Bandarpunch II, 6,102 m). It takes around 15 days to complete this expedition provided the conditions and the cosmos are in your favor. Here I am trying my best to provide you with the details and share bits of my experience on my very first expedition of my life. Starting from the preparation, life while on expedition, trails, conditions, challenges (Physical and mental) and not to forget the enjoyments we had during this entire expedition.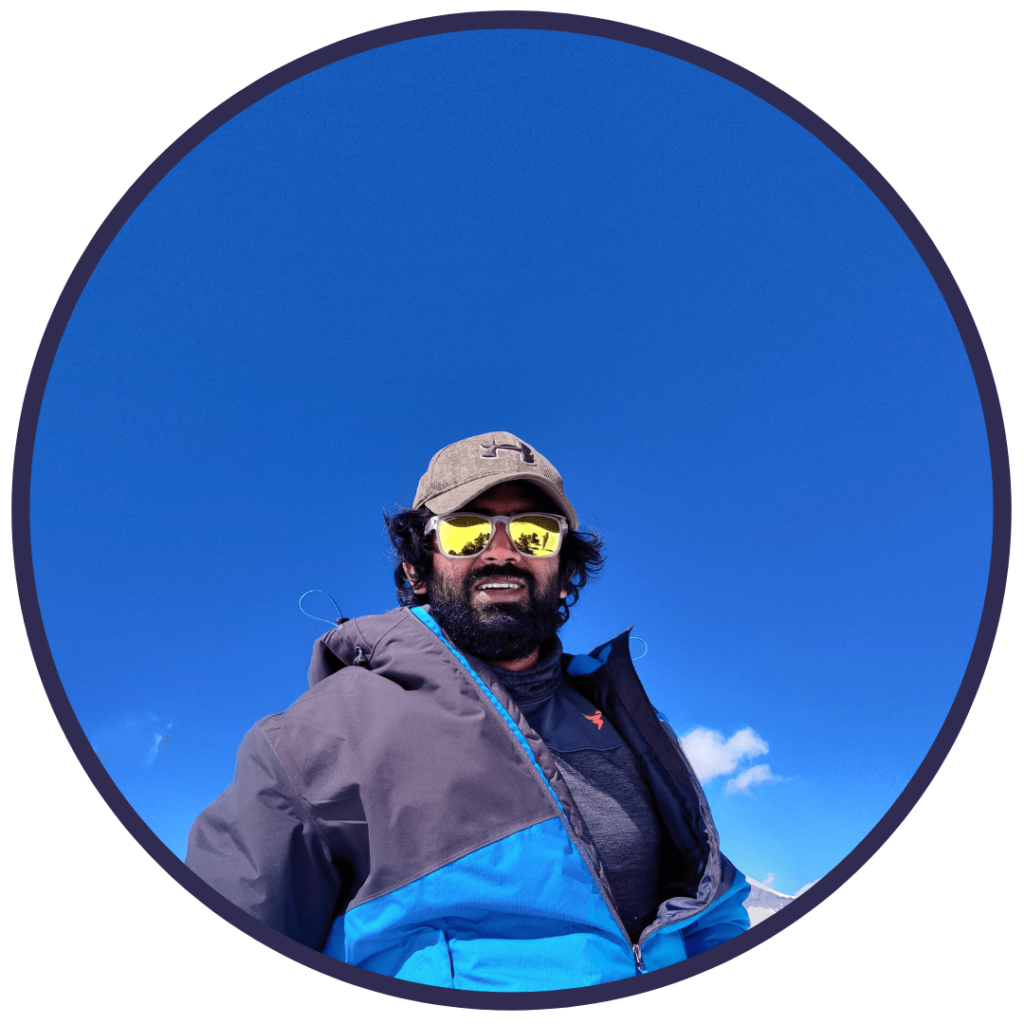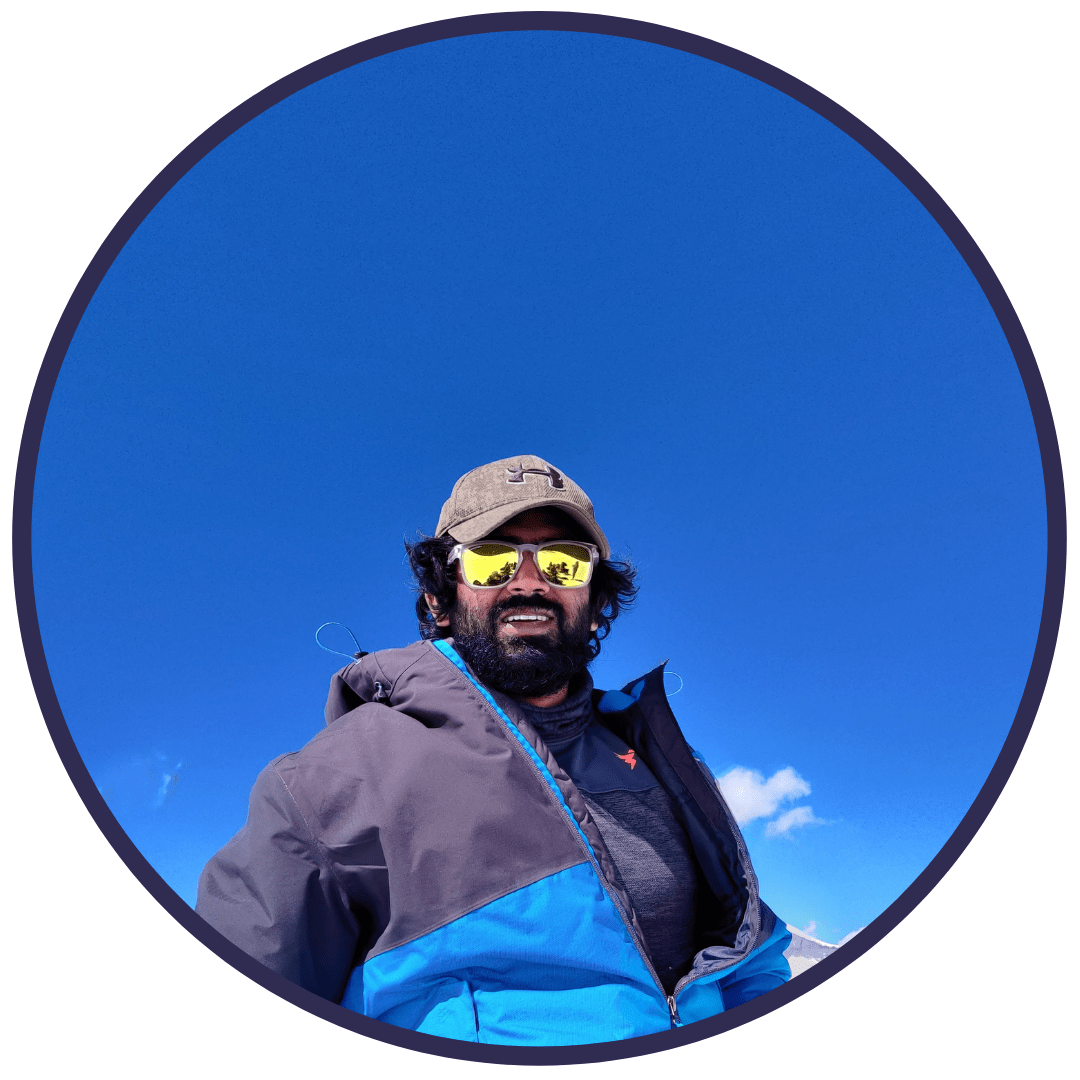 About Author
Pradeep
Nagaraja
For the readers. Myself Paddy, based out of the concrete jungles of Bengaluru but soul always wandering around high mountains to deep sea's and everything in between. I am a HR by profession but have had little taste of many things, just as they say "Jack of all but master of none". 
It all started just as a casual talk in Jan 2021, When I was descending from Kedharkanta trek and was chatting with guide and we were discussing about other treks which can be done around the region and that was the first time I heard the name of Black Peak, the Kalanag and the name just stuck my head. I came back and started doing some research about the peak and started to just gather information about it. There are not many videos or information available online about this peak, you will find few videos on youtube and also few articles on it but trust me they don't do any justice to what actually you will experience in person. You can only picturize the entire event for about 5% and rest 95% must only be experienced. Without dragging it much, will start with my experience and to make it easier I have divided this article into small sets covering my Planning, Preparation, Days of Expedition (most important) and conclusion.
Note: before you continue to read, I request you to kindly google, read and understand the difference between a trek and expedition. This will help you in avoiding at least 30% of your mistakes right away and also help you to make a quick decision and know what you are about to sign up for.
Once I had all the information that I could gather, I decided to go on this expedition and the first thing was to search for an operator who organize such expeditions and you start searching, you will find a bunch of operators who claim to be the best, but it's you who has to be very careful in deciding in who's hand you are willing to put your during such expeditions. I was lucky on this part as I had a name suggested by my previous guide but still, I did my research on them. The few things which you have to check while looking for the guide are, are they local (trust me locals have the best info), how old is the company, how many peaks, passes and hikes do they operate, achievements accomplished by their team, Safety measures, experience of the leads, mountaineering courses and certification of the guides, technical support team, etc., so after all the readings for hours, I Froze on Discovery Hike, found by Ganga Singh and Co-founder Prakash Singh.
They are the best in the business. Please do read about the company and the founders on their website (Link: https://discoveryhike.in/ ) and I assure you that each word written there is true. So, it was in June 2021, I first made a call to Ganga Bhai to check on the Black Peak expedition and he just told me that they have a batch for June and October, and I just took the information and told him that I will get back to him after couple of months as I was not sure of doing it. Then in August 2021, I called him again and confirmed on the plan and he along with his team laid out an itinerary and sent it to us and the expedition was fixed to start on 6th October 2021 from Sankri with 4 climbers including me and a team of 9 guides to help us complete this expedition. The rest was handled by the team Discovery Hike, who took care of the rest which included our transportation from Dehradun to Dehradun, stay throughout the expedition (you will be staying in tents), food throughout the expedition, safety gears necessary for expedition, well experienced leads and guides, registration at IMF, permissions from government boards,  forest entry fee and the most important of all is 'my safety' (safety comes 1st though I have mentioned it in last).
In my experience, no matter how hard and well you prepare yourself, you still fall short of something or the other on such expeditions but the most important thing of all is to prepare yourself mentally and physically to go for that extra mile when its required and the rest assured other things will fall in place. But if a guy like me can do it, then any one with the zeal for adventure can do it as well.
Talking about preparation, you will have to look at many aspects like your personal fitness, bags to carry, shoes, socks, hiking pole, medication, things to eat and the cloths. My preparation started 3 months before the expedition, but still ended up preparing daily during my expedition. So, I am providing few key notes in each category for you guys to take a note of, so that you don't end up or avoid making few mistakes.
I am not a regular hiker, most of my treks were done in the south of India and only two normal treks in Uttarakhand (Har-ki-Dun and Kedharkantha) and straight away going for an expedition may sound stupid, but the want and that unknow attraction towards this peak made me do all that I did.  I just do normal workout to keep my fitness box ticked but from the time I enrolled for this expedition I had to change my workout routine and few of my habits to make sure I at least sustain for half the expedition (yes, this was my mindset). With no experience of expedition and not done a single high-altitude trek and not having the basic knowledge about the mountaineering but all that I had was the confidence given by team Discovery Hike.
First thing I started to work on was my core muscles, especially your thighs, knee, ankle, hips, and shoulders. You will need these muscles and joints to support you all the time during the expedition, so make sure you take care and prep them well (you can thank me later). So, what did I do differently to train then?
Physical Preparation
Running for at least 3 KM a day.
Do weighted squats and Lunges
Do Cross trainer with level 5 to 12 every alternat day for at least 40 min
Do cross fitness with body weight for at least 2 days a week to keep your heart rate checked
Basic breathing exercise
Weighted shoulder exercise
Dead lift and hyper extension to strengthen your back.
Body stretching after training is a must.
Long distance walking with your loaded hiking bag (take more of incline routes)
You can always add extra workouts to your comfort.
The only thing and the best thing for your mental preparation is to stay calm, relaxed, enjoy the moments, talk with your teammates, and take one day at a time. Trust me this will do the job.
So, as I said earlier, me having no knowledge of expedition or mountaineering. It was a challenge for me to pick the right gears for this. All I had was to read about stuffs on internet and guess what's best and what would work, but at time too much of information would be damaging as well and that's what happened in my case. So, the basic rule of any high-altitude treks or expedition is to keep yourself DRY, WARM and HYDERATED all time and you will need to carry things which will support that. As we all know, mountaineering is an expensive sport. You will have to shell out quite a bit to purchase right gears and in India you have a very limited options to choose from and the only name which comes to your mind when we think of any nonregular sports is Decathlon (one stop solution). Yes, even I started to buy my gears from them. Below is the list of gears which I had from my previous treks and which I bought from Decathlon.
Snow Hiking Shoes (SH520 X-Warm Mid Ankle)
Lower lining (Hiking Fleece Tights MT100)
Upper Fleece (Hiking Fleece Jacket MH120)
Hiking Pant (Forclaz WP, WB mountain trekking Trouser MT900)
Snow Hiking Pant (Warm Water Repellent Hiking Trousers SH100 Ultra Warm
Snow Hiking Jacket (SH100 X-Warm -10-degree water repellent)
First layer warm gloves (Liner Gloves Trek 100)
Gloves 1 (Ski Gloves 100)
Gloves 2 (On-Piste Ski Gloves 100)
Torch (Onnight 100 – 80 Lumen Black)
Socks (MH500) 5 pares
Poncho (Trek 150 Rain Poncho)
Hiking pole (Quechua SH500 All Season)
So, these are the things which I bought from Decathlon, and this costed me close to INR 40K (after waiting for the discount season). Apart from the above items you will also need a good hiking bag, regular Track pants, T-shirts, Thermal wear, and water bottles (at least one thermal water bottle) as your basic requirements for which I had to shell out another 6k to 8k (if you are not so brand specific).
So, the first and the most important thing you need, is to look for a good hiking bag which can pack all these things and still be light on your back and hips. I had no clue about the importance of the bag and had carried all these in a normal 75 ltr hiking bag which I had used for my earlier treks. Although it sustained for the entire expedition, but I had to pay the price of carrying heavy load on my shoulder and had to keep on repacking by stuffs as leaving things at base camps as and when possible, to make it lighter on the way. So please make sure you buy a proper bag which are made for professional hiking and expedition no matter even if you must shell out a lot on the bag.  One such bag is Osprey Aether 70 (you have different size to fit your body types and they even have a separate model for women). I am recommending this bag after a lot of research. When it comes to bags it's not about how much you can fill in, but it's about how much you can carry and how easy and light they make you feel while you carry. There are other brands as well in the market which you can choose from but please do your research.
Coming to the Jackets, Pants and gloves which are other important things as they are much needed to keep you warm and dry at all conditions. They will be part of your body for the entire duration of the expedition. Though I bought all my products from Decathlon I strongly say that not all products of Decathlon under the brand QUECHUA are up to the mark. Please don't go by their advertisement and what the salesperson on the floor tells you. Specially with the Jacket. The one which I bought claimed that it can sustain up to -10 but I had to wear 2 extra layers apart from the normal 3 layers to sustain the cold. So please look for a proper down, waterproof, wind blocker Jackets when you go on expedition. I would suggest you carry 1 light weight, softshell down jacket for regular wear and 1 Hard-shell, waterproof, down, or insulated jacket for harsh conditions. The same things apply for your gloves as well. Shell out a little more on the gloves and make sure they have a wrist locking strap to lock the warmth, this is a at most requirement. You can still manage with the pants which I had bought.
With the outer layers covered, now let talk about the inner layers. For first 4 days as the weather was bright and shiny during the day and slightly colder during evening, I did not even need an extra layering till night. I could manage with just one thermal wear as a base layer then a t-shirt and a jacket for upper and just a thermal lower and one layer of socks during night. During the day I just wore a full sleeves quick dry T-shirt and the jacket handy for the quick draw during the walk at early evening. The same continued till we reached the base camp. Post that I always wore a full sleeves quick dry t-shirt and a jacket all time and just a hiking pant as a lower during day and as soon as we reach the next camp site we used to do little stretching, have our refreshments and change over for the evening and night with at least  4 layer on top (Thermal upper, T-shirt, Fleece and a Jacket) and a two layer for your lower (Thermal Lower and a track pant) and at least two to three layers of socks (two pairs of normal socks covered with a full length woolen socks). Along with this I also wore a thick woolen skull cap and a warm liner glove to keep my ears and palms covered and warm. we know that everyone has different body type and different level of resistance to cold, so I suggest you carry cloths accordingly. Specially the layering which you need for the night as temperature drops rapidly, and you would not like to wake up in the night and look for your cloths in the tent with a head torch on.
Now let's talk about my packing. Below is the list of things which I carried in my backpack. I strongly suggest you carry as minimum and only essentials in your backpack, as even 100 gms matters when you start hiking in such trails and conditions. I always wanted to reduce as much as weight possible. Special note to people who are concerned about getting dressed and look pretty for pictures. No matter how many pictures or videos you take you will only be seen wearing a single jacket most of the time and no one can make out how dirty you are on a photo or video, and no one around will bother or even care if you are wearing the same t-shirt for 3 days because everyone understands the situation and they will be in the same boat. Just to let you know, I had carried just 4 t-shirts and 2 pants for the entire expedition, and I had to even drop 3 t-shirts and one pant at the base camp and continue with only one set for the rest of the trek till we returned to base camp and my clothes were still neat. 
So, what all had I packed..?
4 quick dry t-shirts
2 hiking pants
1 snow hiking pant
2 set of thermal wear (top and bottom)
1 Fleece jacket
2 pairs of Ski gloves
1 pair of liner gloves
1 full body poncho
8 pairs of socks
1 pair of full-length woolen socks
5 inner wears
2 thick skull caps
2 bandannas
5 inner wears
1 polarized sun glass
1 hiking pole
1 thermal water bottle
1 normal water bottle
1 20000 mAh power bank and charging cables
1 Gopro with selfie stick and few other mounts
2 head torches with 3 extra batteries
2 big pouches of wet tissues
One lunch box (to pack your daily lunch)
Small medical kit (list of medicines at the end of the article)
One pouch with basic toiletries
Half kg of dry fruits and nuts
8 to 10 protein bar or chocolates
2 knee supporters
1 back supporter strap (I have slight issue with my lower back)
1 pair of flip flops
Yes, I started my expedition with all this items on my back and the approx. weight of my bag was around 10 to 11 Kilo or slightly more, but once I reached the base camp I had to dump 60% of what I carried at the base camp and add other essential things like sleeping bag, snow shoes, harness, crampons, gaiters and helmet to your backpack for the rest of your journey and the weight of the bag will slightly increase. That's the main reason you will need a good hiking bag which has dedicated space for all these gears and still be light on your shoulders and back. A good bag and shoe can reduce half of your expedition burden and you will enjoy the trails in a better way. Most importantly you will get more time to take pictures and videos.
So having most of the things ticked I was finally ready for my very first expedition. I went sleepless the previous night only thinking about how this is going to be and was waiting to board my flight on 5th October 2021 and reach Dehradun on same day. We were supposed to be picked up by Team Discovery Hike the next day morning and take us to Sankri which was 8 hour's drive from Dehradun.
After all the planning, organizing, and waiting finally the day had come to experience one of the most awaited events of my life. The Black Peak Expedition with Discovery Hike. Now it's time to talk about the most exciting part. A 15 day's long expedition, with 4 climbers, 9 crew members and not to forget the 3 mules and their handlers. So, let's start.
Day 1: 6th October 2021,
Dehradun to Sankri
Small town, which is also the base camp for 40+ treks and Expeditions, its located at an altitude of 1950 mtr's / 6398 feet's)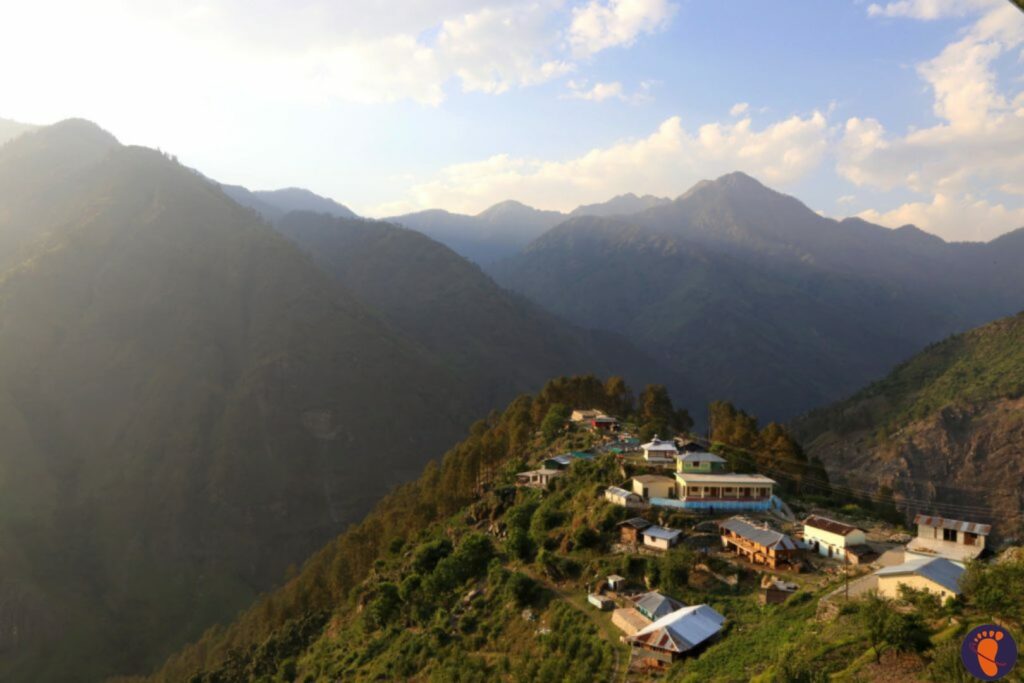 This morning, we were asked to meet the team Discovery Hike and other fellow climbers near Dehradun Railway station at 6.30 AM and as asked I was already with my bags and started to walk towards the meeting point and after reaching there, I met Prakash Bhai (Co-founder of Discovery hike) and Hari Bhai (a climber himself and our Chief Chef) and Chandraveer Singh, (our other fellow climber). There was a formal introduction of all 4 and without wasting time we started towards Sankri around 7.15 AM. it was 8 long hours of drive to reach Sankri and it was not boring at all. At start, all were quiet as we were still half awake, and the weather was perfect for a long sleep. When I was just about to find a perfect position to dive deep into sleep, we reached our first pit stop for the day. We stopped at Kempty which is known for its waterfalls and a perfect stop over for a breakfast. No matter which operator you chose and if you are picked up from Dehradun and going to Sankri. This will be the first stop. During peak season this place will be crowded than you can ever expect. So, we quickly finished our breakfast and after having a cup of lemon tea, all our sleep had gone, and the mouths had opened. We started to understand more about each other's professional life, experience and the journey went on. We passed through small and narrow towns, a river flowing besides you all the time, drive through the curves of pine forest and roads that lead you straight into the mountains heart. After reaching the mid-way we stopped at a town where we had to collect few gears for the expedition and buy some groceries for the expedition. That's when I first heard someone asking, "Where are you Going" and the immediate response to that was Kalanag…! and from there this question was in the air till we reached Sankri. 1 hour from there we stopped for lunch. One small eatery just beside Tons River. This is where I took out my phone for the first picture. You can't resist taking pics in this place. Standing on the banks of river, surrounded by verdant fields of rice and forested hills of pine and deodar. After spending almost an hour here we started again towards Sankri.
Finally, at around 4.30 or 5.00 PM we reached Sankri. At the arrival we were welcomed by the team discovery hike and without further delay we were allocated our tents and were asked to fresh up and meet at the common area for tea and snacks. After resting for about 30 min and getting fresh, we went to the common area for our tea and snacks. While walking down I just noticed the surrounding of the camp site which was perfectly placed right during nature and without disturbing the absolute beauty of the surrounding. We walked into the dining area and saw just about everyone of team discovery hike busy with gathering stuffs and arranging things. Prakash bhai helped us with tea and snacks and just then we heard a gurgling voice saying, "Hello Sir" and that was of Ganga Bhai (Founder of discovery hike) with a huge bag on his back. He wished us and got busy with instructing things to other. We were done with our tea and were looking at the arrangements the team was making for the expedition. Gathering gears, groceries, tents, fuels and what not. We were just admiring the efforts of the team and at side Chandraveer was explaining me about the gears and the uses of it. We were still waiting for our 4th climber who was still not in the picture. But later we were informed that he would be joining us a bit late. Then we went back to the tents for some rest and were told that we will meet the complete crew and climbers during dinner and there will be a briefing post dinner.
At around 7.30 we are called for dinner, we all again assembled in the dining area and the entire crew was right there, for the first time we met our crew, not just crew but our family for next 15 days. 
Crew Discovery Hike:
Ganga Singh Rana (Lead Climber)
Prakash Singh Rana (Lead Climber)
Satish Singh (Technical lead Climber)
Harish (Chef and Climber)
Arjun Bhai (The Hulk of the crew)
And few other to join on the way.
Along with dinner we had a small introduction of the crew, and we were clearly briefed about all the whereabouts of the expedition. Ganga Bhai provided the information on what to expect, do's and don't's of the expedition and Satish Bhai explained about the technical aspects and challenges. The entire discussion went on for an hour and half and then we broke for dinner. Just then comes our 4th partner in crime Deepak Sagar our 4th climber was finally home. After a tummy full of delicious 4 course meal, there comes a form which was supposed to be signed. Yes, the most important part before any treks or expedition, you will have to sign a declaration form, which summarizes to taking complete ownership and responsibility of things which may occur while experience such adventure sports. We all happily signed it and called it a day. Went back to our tents to prepare our bags for the expedition. After a quick repacking we went to bed with a picture of Black peak in mind.  We had to get up early next morning to have our last hot water and full bath.
Day 2: 7th October 2021,
Sankri to Taluk to Osla
(Taluka, altitude of 1950 mtr's / 6398 feet's, Osla, altitude: 2590 mtr's/ 8498, walk distance: 21 KM)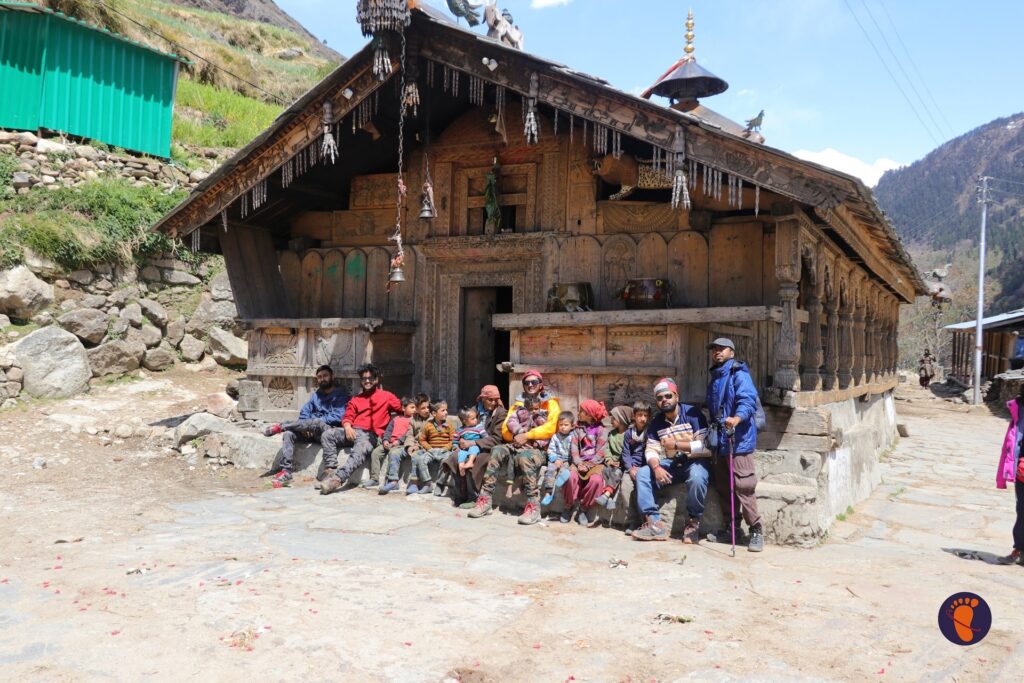 This was the day we have been waiting for from last 3 months, woke up at 7.30 AM to misty morning, took our last hot water shower, packed up and ready to go. We assembled at dining area for our breakfast and after a tasty food and a cup of hot black tea we were all pumped to start the day. We were given our lunch box packed with veg pulao, banana, and a 5-start chocolate. Our ride till Taluka was already packed and was waiting for us to board. Without wasting anytime, we took few group pics and hopped on to our ride with lot of noise at around 9.00 AM. But we were told that there might be a land slide on the way, and we might have to change our ride in midway.
We stated to drive from Sankri to Taluka which is about 7 KM, and you take the normal village connecting route, it's a pleasant but bumpy route which will take about 45 min to an hour (depending on the road condition). You will get a beautiful view of the Sankri town, the valley's covered with tall pine trees and streams crossing over. Just after 30 mins of our journey we had to stop as the connecting route was cut due to land slid. We had to get off the vehicle, unload all the supplies and bags and cross over the road by foot and wait on the other side for another vehicle to pick us up. It was a fresh slide which we had to cross over. It was all slippery and wet. We just carried our bags and crossed over and the crew was busy moving the heavy load. After 30 min's past, our ride had still not arrived and one of the team members had to walk to the town to check what had happened and came to know that there was another landslide on the other side as well which had stopped our vehicle. So, without wasting any time we decided to walk the remaining 4 KM to reach Taluka. It was a bright and shiny day, and we couldn't wait to warm ourselves. We started our trek on a flat village trail and after an hour of walk, we reached Taluka. I must say it's a very pretty village with traditional wooden houses with small doors and windows, children running around the streets and fields of "ram dhana" (a kind of pink grain when processed can be used as like wheat). We reached our assembly point, and our crew was all set and welcomed us with a cup of tea. While we finished our tea, the team had already sent few Mules to carry the rest of the load and we dint had to wait for them.
So, we had finally reached our trek start point after walking 4 KM and our next destination for the day was 21 KM away. We picked up our bags, cheered ourselves calling out "Har Har Mahadev" and right foot forward. The trail was normal, for first few minutes we walked through the village, crossed the dry and rocky riverbeds then slowly the trail gets narrower, sloppy, slippery and then you enter the pine forest.
For most of the journey you will walk beside Supin river flowing with all its glory and It's like a perfect child's play or like a roller-coaster ride. At times, you will have to slow down while you get up hills and just before you start taking deep breaths, there is a descend in the trail. The entire trail is a mix of incline and decline climbing. The best part is you will always be in the shades of tall pine trees, and you need not have to open your water bottle throughout your trek today, you will at least find one stream for every 500 meters providing you with fresh, chilled and natural mineral water. The trails are slippery and rocky so make sure you watch your steps. The entire trail looks easy for a regular hiker and moderate for an occasional hiker like me.
After about 3 hours of hiking, we stopped for our lunch and took a break for about 15 min post lunch and started off. The weather was so perfect, the trail was shady, and the company was joyful. What best can you expect for a perfect hike? We started off and now most of the trail ahead will be slightly incline, but very pleasant. we still had to cover 13 KM to reach our destination. After continues walking through the pine hills, collecting some walnuts on our way and taking small breaks at couple of tea shops through the way. We reach a small village at about 4 KM away from Olsa and It was around 3.30 PM. Looking at the situation and our conditions. The crew quickly changes the plan and decided to shift the camp site from Osla to Seema (the last village, little further ahead of Osla). As we still had some energy and a lot of day light left, we agreed and continued further to Seema. After an hour of steep walking at about 6:00 PM we reach Seema and the bonus for walking few extra miles was that we got to spend that night in an unfinished wooden house rather than a regular tent. So, we ended up walking 24 KM on our first day to reach our first destination.
After reaching there, we quickly did some stretching's and got into our warm cloths as the evenings began to get colder. The view from the camp was amazing. You could see the entire Osla village hanging on the hills, waterfall, right through the middle of the mountain and the ferocious river Supin flowing right next to the cottage. The crew was busy preparing dinner for us while we were enjoying the beauty of campsite and sipping tea. Around 8.30 PM we were called for dinner and were surprised looking at the menu. Hot roti's served straight from the pan with vegetable subzi, rice with dal fry and jamun for dessert. Trust me you will be fooling yourself if you are expecting anything better than this. After a good meal we stepped out for a chit chat and noticed the sky was much clear and stars were much brighter. We spent some time gazing at the open sky and spotting couple of shooting starts. After a long day of walk and a tummy full of tasty food and a warm shelter, it was time to call it a day and crash. Our adventure for the next day was waiting for us.
Day 3: 8th October 2021,
Osla/Seema to Ruinsara Tal
(Osla, altitude: 2590 mtr's/ 8,498 feet's, Ruinsara Tal, altitude: 3350 mtr's/ 10,991 feet's, walk distance: 14 KM)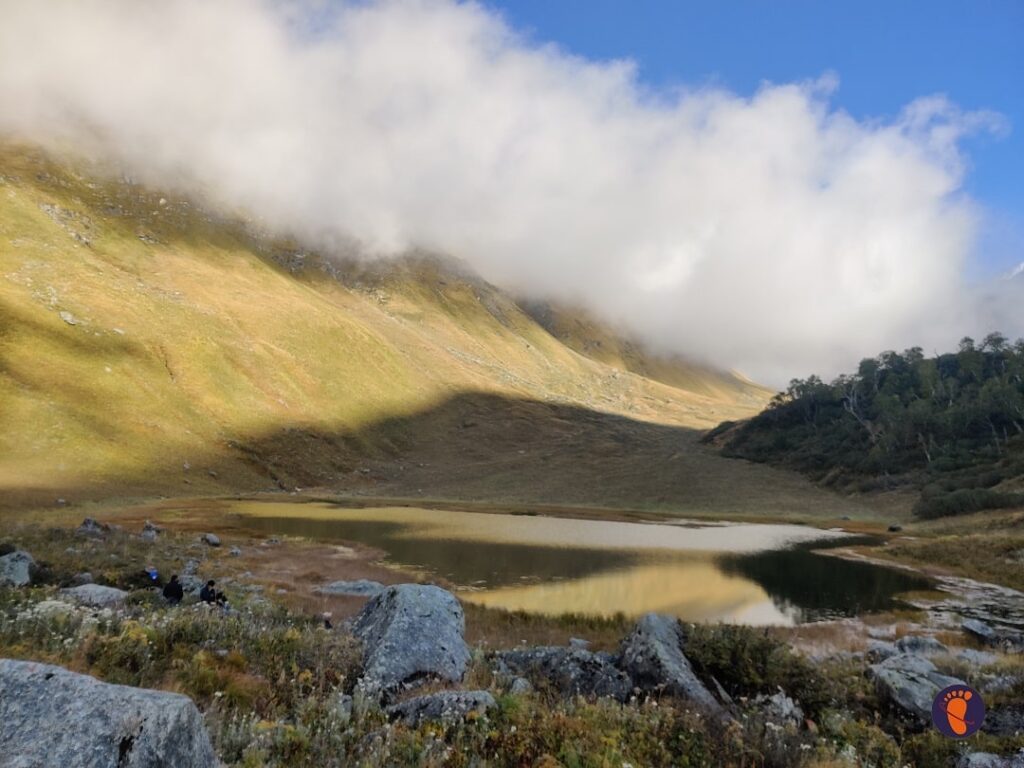 A new day, with a new shine and a lot of hopes. After a peaceful and cosey sleep at our last luxurious half-done wood house, we woke up to a pleasant shiny day. quickly finished our morning duties and packed our bags. We all assembled for breakfast and a short briefing about the day's trails by the crew. At about 9.30 AM, after a tummy full of yummy breakfast (Toasts, Jam, butter, Paratha, pickles, and egg) and a packed lunch (Roti rolls, 5 Star chocolate, egg and a banana) we were all up and running. When we were just about to start, Ganga Bhai brings in a new guide and introduces him as his Chacha and when we look up we see a short person dressed in typical phadi attire, with a broad smile, wearing a day pack and holding a water bottle in hand.
Well, now this is the most interesting part, the actual name of chacha is Behater Sing, he is the father of Prakash Bhai and chacha for Ganga bhai. More than all, he is the local legend who hold a lot of records in climbing almost all named peaks in these regions. He is the only person, who has climbed Black Peak 21 times and successfully hit the summit for 15 times. He is the go-to man in the town for most of the operators when it comes to such expeditions. You can't name a mountain or a pass or even a normal hike that this person has not done. Locals even say that if Chacha is along and weather is in your favor, then for sure the team will see the summit of any mountain they climb. So, by the legend on our side, the level just doubled but there was also a huge sense of relief as we had the best to guide and guard us.
The trail starts with a flat, rocky, wet surface passing through the end of the village roads, fields of Ram Dhana and the Supin river flowing right next to you. We passed few bridges, crossed the little streams, had a glance of few amazing waterfalls, and went through the grassy lands, when we were just about to enter a maple forest the clouds suddenly uncovered the first view of our destination, The Peaks of Bandarpunch range. The tall white mysteries looking peak Bandarpunch 1 and right behind was our sturdy Kalanag. This was the moment I realized that the love at first sight was actually true. The excitement just got doubled just at one glance. We quickly took few pictures at the spot and started to walk further. Right after that there was a steep decline through the maple forest which will take you close to the Supin river, and you will cross it over on old style wooden bridge. I bet you will not cross it unless you take few pictures and videos there, so have your camera pulled out. the trails ahead still remained flat and rocky till you reach a tea shop, up to here you would have covered close to 3KM. After 30 to 40 min of walk post crossing the tea shop is then the trail start getting narrow and the gradual incline begins, rest of the journey you will be walking in the shades of the forest with a combination of incline and decline climbing. We were crossing over the hills horizontally through the forest, catching few picture-perfect glimpses of valleys on the other side.
 At about 1.30 PM we stopped for our lunch, next to a small stream, finished our roti roll which Hari Bhai had packed it with all the love, took rest for 15min and continued our walk. There are well laid/marked tracks throughout, you will also cross many streams and walk right under waterfalls. For the last portion of the trails, we entered a small meadow and at a distance we could see a small spread of dry tree forest and were told that our destination for the day is right past that forest. At this point we had completed 10 KM and still 4 Km to finish, the end part of the day was incline, we had to walk through huge rocks, cross the dry forest. Just about when our last energy pack was about to burn out, we caught the sight of our little yellow tents pitched on the grassy beds, right next to the rocky banks of the Ruinsara Tal. Trust me after a long walk and desire to reach the destination. The glimpse of your tent gives you the at most satisfaction at that moment.
We just crashed our bags at the sight and the crew was ready with all the set ups for us to relax and refresh. Ganga Bhai and Satish Bhai were waiting for us with the hot herbal tea made of freshly plucked herbs on the way by Hari bhai and ever tasty and magical veg cutlet which made our taste buds cry with joy. We had rest of the evening for ourselves. We did some stretching, changed over to warm cloths, and took a walk to the tal which was just about 100 mtr's from our tent.
The camp site was perfectly pitched at the banks of the sacred Ruinsara Tal, surrounded by the gigantic glaciers of Swargarohini and Bandarpunch rages, Ruinsara Tal receives its fillings directly from the glaciers around it, besieged by the alpine vegetation and rosy, red rhododendrons, the Ruinsara Tal is considered to be sacred by the locals. The locals residing in this area believe that they are the descendants of Kauravas and have built temples in their honor. According to the legends, this is the route that the eldest Pandava brother, Yudishtra took while heading to Swargarohini, the way to heaven.  With all this information, we just sat by the lake, enjoyed every sight, and were soaked in all that mountain vibes around. When we returned to the tent our delicious dinner was ready and we could not wait to munch on it. Around 8.30 PM we were all done and called it a day. We went back to our cosey tents got into our sleeping bags and even before we realized we were asleep.
Day 4: 9th October 2021, Ruinsara Tal to Kiarkoti
(Ruinsara Tal, altitude: 3350 mtr's/ 10,991 feet's, Kiarkoti /Base Camp, altitude: 3620 mtr's/ 11,877 feet's, walk distance: 09 KM)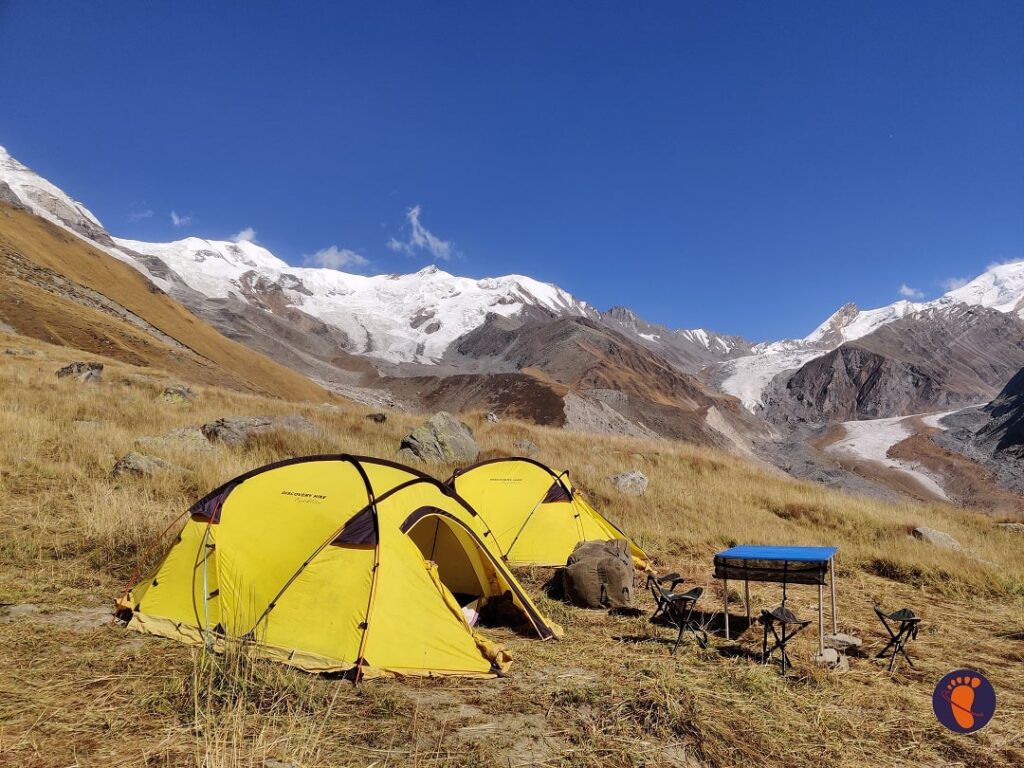 The nights were getting colder, so we had to wait till the sun was up so we could step out of our tent that day morning, at around 7:30 AM the rays started to shine bright on the tents and so we started to finish our daily rituals at about 8:30 AM while having a breakfast and a morning briefing we were told that today's distance would be 9 km and trust me that was a huge sense of relief and when everyone started to relax thinking it was just 9 km and it was an easy walk compare to what we had covered in last two days, Ganga bhai made a statement saying 'Pehle poncho phir dekhenge' this was the first note of caution on how the trails ahead would be.
We finished our breakfast and pack our bags with lunch and started off the day's journey around 9:15 AM. We first went to Ruinsara Tal, took some pictures of the beautiful morning view of the lake then started walking upwards, to start with, the trail was slightly incline we started walking right in between the valleys and the boulder rocks it was a fabulous view on both the sides as we were passing through the mountains, it looked like as if we were entering the heart of the mountain. It was a steep climb for some distance, crossing over big boulders. At times we walked on a flat grassland and at times we had to walk steep and right on the edge of a mountain crossing it horizontally. The trail starts getting narrow and we would even find it difficult to stay on track if you are far behind. Just about an hour of walking we came to a point when we had to cross the landslide porn area. This is when we realized what Ganga bhai meant when he made that statement. This was our first crossing and by the looks of it was terrible. I could only see rocks, loose soil, falling gravels and we are standing right at the edge of a cliff and our super guides asking us to take the steps. We had to literally get into a landslide area without any trail and worst part was we were supposed to climb down for about 150mtrs and then climb up around 200 mtrs. This was a first hit of a kind. But with our super guides we just went for it. We had to hold on to the rocks pick a spot for the steps and watch out on what's falling on you. I dint look down nor up not even ahead. Just went step by step and be as quick as possible, without even realizing we had crossed the side and were standing at the edge of the next mountain. The next trail for a quite long will be on the open, sloppy grassland of the hills, you will be walking horizontally on the edges of the mountains. It's like always walking on the cliff with river Rupin flowing at the bottom of the hill and the beauty view of the gigantic hills, open valleys, free flowing streams from the glaciers on the other side. It will be a long up and down walk crossing hill after hill. You will be crossing through the boulders along with flowing water directly from the glaciers, when you arrive at such points it indicates the end of a mountain and the beginning of the other. The trails are majorly incline and narrow throughout and the boulders adds up to make your journey more challenging. Make sure that you watch your steps and not sprain your ankles. At times you will have to take steps on shaky rocks. As you continue walking you can clearly notice change in the vegetation as the forest areas keeps reducing and the plain grassland starts to takeover. The last stretch for about 3km is completely incline and filled with huge boulders which makes the journey very tiring. But just about the time when I was struggling to take steps and gasping for deep breath, I caught the sight of our bright yellow tents pitched right under the foothills of the Swargarohini. The perfect first view of our base camp. It was just like a place from a fairy tale. With all the left-out energy I just rushed to reach.
We sat down for few minutes, stretched our bodies and our tea and snacks were ready. We all sat down and started to absorb the magical vibes of the mountains. Every sight was mesmerizing. with Swargarohini at back and the mysterious Bandarpunch 1 and 2 in front of our tent and the majestic Kalanag right beside it. Our tent was pitched right next to a small stream flowing straight from Swargarohini which was our last source of water and our last point of water in liquid state. The evening started to get colder as the sun went down. We had to quickly add some extra layers than previous night to stay warm. We decided to have our dinner together inside the kitchen tent just to warm ourselves in front of the stove. While having dinner we started discussion on the next day plans as we were supposed to do a load ferry to camp 1 and come back to base came. But there was slight change in the plan as the crew decided to do the load ferry and asked us to rest for the day. This was the best news for us so far, after knowing that it's a day off, I ate 2 extra roti and some extra halva. With tummy full meal and next day off, I went to bed with a smile on the face.
Day 5: 10th October 2021,
Rest day to acclimatize
(Kyarkoti /Base Camp, altitude: 3620 mtr's/ 11,877 feet's)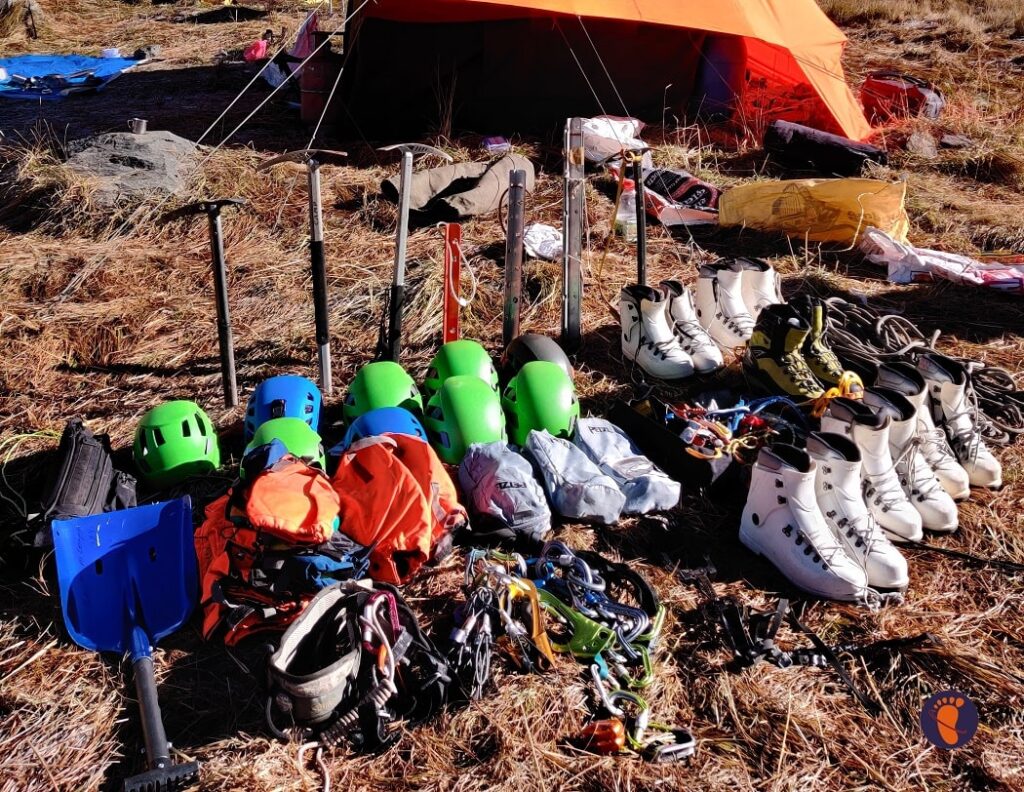 Today we had the luxury of some extra sleep and day off to restore our energy levels. We woke up to the bright and shiny day. But our crew was up and running unloading all our gears. We had a fabulous breakfast in the open meadows right beneath the glories Swargarohini and just in time there was an avalanche falling from the tip of the peak and it almost made it till the middle of the peak. it was a beauty to watch but at the same time it reminded us on how challenging the trails ahead would be. The crew had kept all our gears on display, and we had our first introductions to our life savers (The helmets, Ice axe, Harness, snow boots, ropes, quick draw clips, gaiters, crampons, and lot more). Soon the day off became a training day for all, we were asked to wear the heavy snow boots and walk around the place to get used to the weight and feel of the boots, this was the first time I was wearing them, each boot was around 2 Kg's and after wearing them your walking style changes completely. You will have to transfer your weight to your toes while you walk because that's how you will climb the incline terrains ahead. It was bit tricky at the beginning but after an hour of walking around we got used to it. Next there was a long briefing on the use of ice axe, some basic information on the knots, some very useful information on how to self-arrest when you or any of your teammates slips when your roped up.  How to duck the heavy wind and snow that comes along with it, how to walk when you are on crampons and roped up to your teammates. It was a lot of information to process but we were given enough time to try on everything and ask as many questions as we could to get a hold of things. The entire training went on for 3 long hours. Just during our training, we were joined by another lead climber (Prakash Bhai) and a technical climber (Deshraj bhai) immediately after our briefing we saw that our Chacha, Arjun Bhai, Ganga Bhai, Prakash Bhai, Deshraj Bhai and Satish Bhai were ready with all the load and started with their journey to Camp 1 and we were given the entire day to get used to our new partners.
So, we were told that going forward we will have to carry our set of gears (Sleeping Bag, Harness, Snow boots, crampons and helmets), so we had to quickly do a repacking to make sure we carry only the at most necessary things with us and add these gears to the bags. So, I decided to wear only one new set of t-shirt and pant for the next journey and took only the warm layers, additional socks, basic first aid kit, one power bank for 2 of us and some dry fruits and most importantly make sure you pack tissue/wet tissue papers, as I told, this was our last source of water in liquid form. Tissues will be necessary to help you with your morning rituals. Just with these things the bag was around 5 Kg's and we had to add another 5 to 6 Kg's of gears to it. we had no other options but to carry them.
It was around 4.30 in the evening, and we could already see our team returning from camp 1 and were shocked to see that they returned so soon. It just took about 4 hours to go to camp 1 and back to base camp. Trust me these guys are at different level of fitness. We all sat down for our evening tea and snacks and started discussing about the condition of the routes and distance to cover tomorrow. We were told that the distance was about 6 to 7 Km's, but the trail is slightly challenging but manageable. Well, the last word of the previous statement always creates a question mark in your brain. But the team mantra was to take one day at a time. So, we stopped thinking about tomorrow and just enjoyed the evening and night at a fabulously magical spot with some music and by sharing some extraordinary experiences of our team. With all the fun and some mouthwatering dinner on the plate we called it a day of joy and went back to our tents to have a blissful sleep.
Day 6: 11th October 2021, Kyarkoti/Base Camp to Camp 1
(Kyarkoti/Base Camp, altitude: 3620 mtr's/ 11,877 feet's, Camp 1, altitude: 4300 mtr's/ 14,108 feet's, walk distance: 07 KM)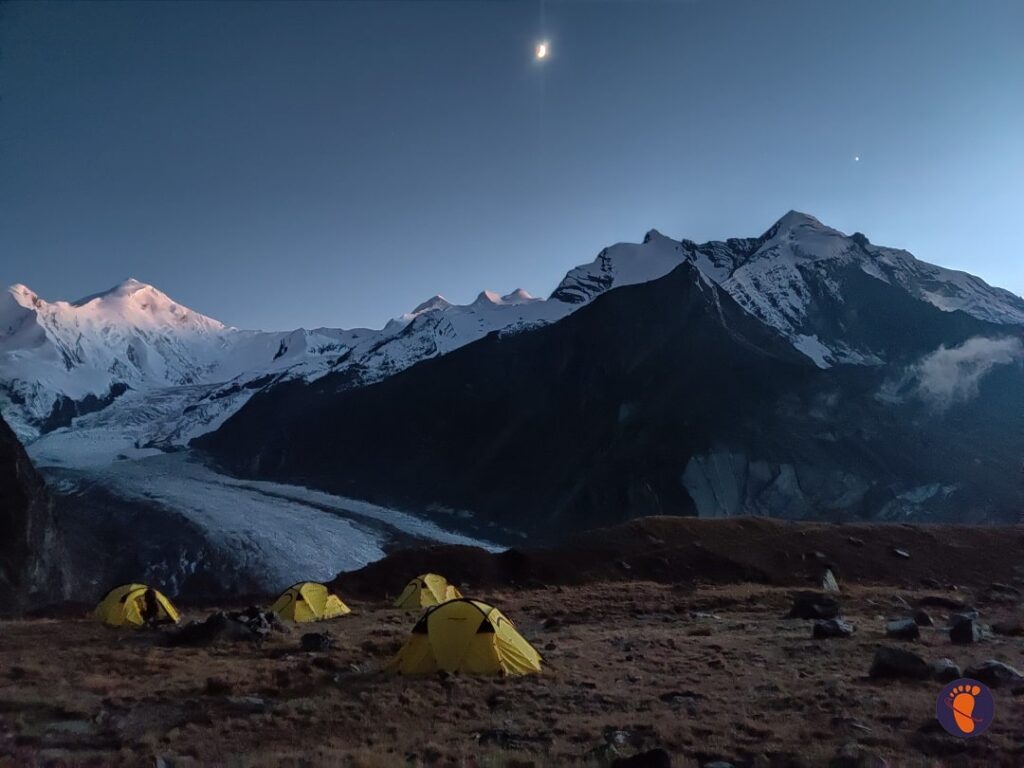 It was a busy morning for all today, the team was busy carefully packing the essential things for our next few days of journey and we were busy planning on what must be left behind, how to fit in the additional gears to manage the weight. Trust me every 100 grm's matters. So, plan your packing very carefully. After an hour of mind scratching work, we were finally ready with our bags. We were handed over a special energy pack by the team today, (roasted horse grams, apple and two 5-star chocolate), it was a very nutritious pack, but again it added to the overall weight of the bag. We couldn't say no to the pack, as we were told that we will have to eat as much as possible to gain energy to cruise through the trails ahead.
When we were all set, we had one more important thing to do, we had to offer our prayers to the almighty mountain gods and cosmos, seeking their permission to step on them, to have a favorable weather condition and not to be affected by any unseen forces around us during our journey. Our Chacha along with Hari Bhai and Arjun Bhai did the proceedings and we all prayed along with them. After a short ritual and breaking of the coconut as an offering, we all shouted out loud calling out "Har Har Mahadev". With all those vibes and energy flowing through the cells we pulled on our bags and started our walk.
It was just a 7 Km stretch for the day and all we had to do was to walk in the rhythm, maintain a standard pace, rest for a while when required and mind our steps on our way. To start with, we had to hit the steep uphill walk to reach our cross over point. It was just around 200 to 300 meters, but we were already running out of breath, this was due to our first elevated walk in that altitude, nothing to worry, as it gets better when you start cover distance. After this 60-degree uphill walk came our first challenge of the day, a steep descends, through the landslide area, with no visible trails. I just stood there and watched the absolute beauty surrounding us but in the backend my mind got the first chill thinking on how to cross it. Our leads were already on the work and were making the possible route through the dry, dusty, and loose soils. I could see them slip but in a blink of an eye they were standing steadily on the next step. It looked like a magic show to me. I was just wondering how one could slip, slide on one foot and still take the next step and just go on like that. Within matter of few minute our lead was on the other side with two of our climbers. Now it was my turn, and I literally could not find a trail to follow, Satish bhai was just few steps ahead of me and I was just told to follow the footsteps. With a thousand things running in my mind and with a deep breath, I took my first step. I had to hold the strong grass on the edges, look for the most stable area to keep my feet, balance yourself and take the next step. The actual twist was about few steps ahead, when I had to step on a dusty and loose soil, I just took the step and the ground under my feet slipped for about 1 foot, (I had my balls in my mouth for a sec) immediately Satish bhai asked me to take the next step. I just took the next step and had to slide again. It was clear to me that I am going to miss my next step and will slide all the way down to the bottom on the hill, but just after few steps the technic was clear. I just had to keep taking quick steps and not worry about the sliding part and more importantly not to stop. Just in matter for few minutes I was on the other side and the thing which looked like an illusion has become a technique.
We were walking on the edges of the mountains, with open sloppy grasslands for rest of the journey.  We had to take steep climbing up hill to reach the tip and walk through slightly flat trail to crossover to the other hill. The trails started getting very narrow, as narrow as the size of your feet, absolutely no space to keep both of your feet in one place. But I was used to the trail by then and just kept walking with my head down. I could clearly sense the altitude we were gaining after crossing each mountain. Through the journey we came across 2 more crossing which were affected by recent landslides, one was very fresh, we had to cross over it while there was still few small stone and pallets falling over us, but we had adapted to the new techniques and with the expertise of our leads we were able to cross over such hazardous place with no risk at all.
Halfway through the mark we stopped for our lunch on top of the hill from where we had our first view of the entire Bandarpunch range of mountains and its frozen glacier stream flowing all the way down. It looked like a broad ski route starting from the top of Bandharpunch 1 growing all the way down till the bottom of the hill. We could even spot the huge crevasses even from this distance. Right in the middle was the all-white Bandarpunch 1, on the right was the so-called black mountain, Bandarpunch 2 with all rocky and patches of show here and there and to the left was our Kalanag, half of the mountain was all covered with snow and the other half looked like a carved black rock with ice edges. It was our first close sight of these humungous mountains. After our lunch we started walking and just about few minutes the entire geography changes. The grassland was disappearing and the dry rocky and dusty out fields started to take over. The last leg of the journey was filled with huge, cracked rocks fallen from the mountains, sand and dust from the dry bottoms of the hills and we were walking right through them watching these huge glaciers slowly surrounding us in all 4 directions. After 6 hours walk, we finally reach our Camp 1. We could see our bright yellow tents pitched in a small meadow right on the cliff of a mountain, fully surrounded by these humungous mountains.
After reaching the site we just took off our bags and started wondering about the surrounding. I totally forgot how tired I was and was fully lost in the moment. The entire range of Bandarpunch right in front of us, huge and broad frozen glaciers streams from every mountain, the open and scary crevasses. It was a true treat to the soul and the best view of my life till date. The wind was at a high speed because of the location. As our camp site was right in between the hills and the surrounding was little flat, it created a vacuum. With a cup of tea and best of nature to fill our soul, I was totally lost. While we were lost, Arjun bhai was still working hard to find some water for cooking and drinking. He had to walk all the way up to the nearest frozen stream break some ice and carry it down to the tent. We had very limited source of water and it took lot of time and efforts from the team to make water, but thanks to the crew, they never said no whenever we asked to fill our bottles.
We had to quickly layer up ourselves as the temperature was dropping and within no time it was too cold, so we had to rush into the tent and crawled inside the sleeping bags. Thanks to the team because they served us dinner to the tent. It was our coldest night since the beginning of the journey. We had our dinner as quickly as possible that night and just went to sleep with all possible cloths. It became too windy during night and couldn't get much sleep that night. I just hoped our tents not to fly and tried to rest.
Day 7: 12th October 2021, Camp 1 to Camp 2
(Camp 1, altitude: 4300 mtr's/ 14,108 feet's, Camp 2, altitude: 5100 mtr's/ 16,732 feet's, walk distance: 06 KM)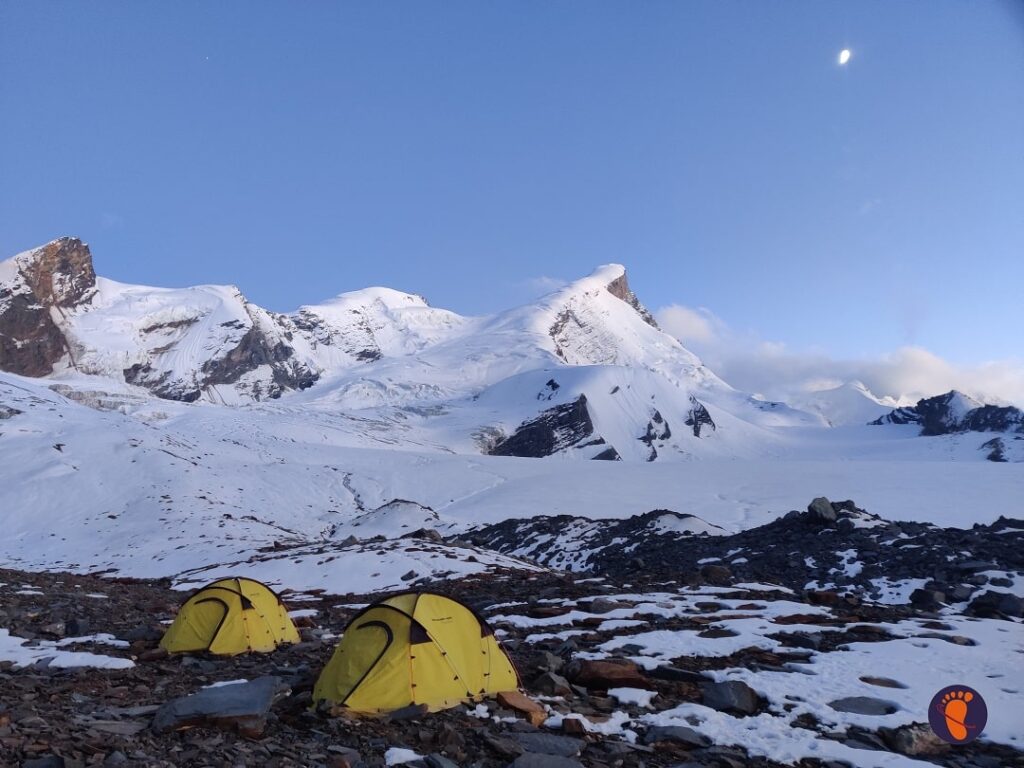 Waking up to the best of nature's amusement is a fantastic feeling. With first rays of morning taking over the chills from the night is a magic of its own kind to experience. Today was supposed to be a break day for us to acclimatize but due to the favoring weather conditions our expert crew decided to move to the next camp and make the best of this conditions. Once we were out of tent the crew checked the health conditions and physical conditions of every member and they discussed about the change in plans. It looked suitable for us as well and we decided to move to camp 2 on the same day. It is always better to make the best of the weather conditions even if you must push your physical limits.
Without wasting time, we packed our bags and team was busy packing the heavy loads. We were told that the distance for the day would be 6 km's, but the trails will be slight draining because of the elevation gain. We dint think too much about it and just started to walk, following the frozen glacier stream which was straight from the Kalanag peak. We were walking through the dry glaciers of other surrounding peaks and the trail was filled with loose sand, cracked rocks, boulders and rushing muddy streams from the peaks of mountains. The routes were changing from visible to narrow to no routes to make your own routes. The pace of the team had changed by then as each of us were walking at our best possible pace. The load on the back, reducing oxygen levels and the elevated hike changed the equations for everyone. It was getting difficult step by step, we had to rest when we wanted a big gasp of breath and keep moving forward. The team had to make a route marking with the pallets so that people behind can catch up. The entire route was incline and filled with cripple rocks and boulders which was adding up to the challenges. I had to use both my arms, legs and literally crawled to cross over at times. We had taken almost 3 hours to complete just 2 Km's. The elevation kept on increasing on every step I took. The geography had changed so quickly that we had already moved from dry lands of mountain base to the dry beds of glacier rocks, we were walking on the glacier beds. We could clearly see getting closer and closer to base of our destination, but the destination kept on getting bigger and bigger. That day we dint even stop for lunch, we just took break as and when required, ate what was required on the go, mostly energy bars, dry fruits and chocolates and kept on walking.
After about 4 hours of rigorous walking on the most rough and rugged terrain we reached the beginning mouth of the frozen stream which we were following from morning. We had our very first step on the glacier ice of the mighty Kalanag and for the very first time we had the breath taking fantabulous full view of the mysterious Black Peak. While the cracking sound of ice on every step was a rhythm to the ears and every sight of the surrounding was far from imagination, my soul was fully lost in the moment. We all stood there like idols and just felt every passing vibe around. I could hear my heart muscle crunching sound on every beat, it was that silent. Just at the right moment we hear a voice calling 'Chalo Chalo' from our super Chacha, which got me back to senses and reminded me on the distance to cover.
From here, we just had to cover 2 more Km's to reach our destination for the day. We were so lost in the beauty that we had lost our focus on the struggle of climbing further. By 3.00 PM we were already at Camp 2. We could see our tents pitched on the rocky tiny stretch of flat surface right at the base of Kalanag. It was like a boundary between land and snow. The tent was pitched on the last hard land seen to eyes and 20 steps away was the fairy land covered with snow. Our tea was ready, and we just sat down silently and looked at the mesmerizing beauty of the nature. Soon after tea, we quickly added few layers of closets, team served us hot Maggi for our snacks, trust me this Maggi will be remembered for my life.
Soon after snacks team told us to try on our snow boots and take a stroll around. Ganga bhai, Deshraj bhai and Chacha were already set to explore and open routes for our next day journey and we thought of joining them for some distance so that we get used to our new boots and walking on snow. I was on with my shoes and just after taking my first step I realized how my conditions would be for next 3 days. I just felt like an astronaut walking on moon, I had to put 3 times more efforts than before to take 1 step. This was my first experience of walking in snow with a snow boot on and I had realized it by then that it's going to take me on a ride for sure. We started walking a small uphill trail for about 600 mtrs. I could notice that my walking speed had reduced drastically. We just reached a small bump area where we sat and watched our lead crew at a far distance opening and marking route for next day. After spending half an hour there we decided to go back to the tent. This small walk helped a lot to understand the way the shoe works and how to walk with it. While getting down we noticed a small poll of hard ice next to our kitchen tent and after having a closer look I realized that we were on top of a glacier with just a cover of cripple rocks on top of it, underneath it was all nothing but hard ice. This gave me a shock of life. We were just on an edge of a hanging hard ice, Arjun and Hari bhai were axing it to gather ice to make water for us. For me It all looked like axing the branch on which I am sitting. The place started becoming magical as the sun started going down. The patterns of clouds, the color of rays, the view of each peak, everything turned magical. There was a different level of cosmic duet happening between earth and sky. The belief of heaven was so real at that moment. It was turning colder and colder, the breeze was catching speed and was freezing. We had to lock ourselves inside the tent and hide in sleeping bags with all possible layers. The entire crew was so helpful in these conditions. They served our dinner, got us soup, filled our water bottle all to our tents. I even had to think twice to step out for a pee. With all these efforts and feeling we crashed to sleep.
Day 8: 13th October 2021,
Camp 2 to Summit Camp
(Camp 2, altitude: 5100 mtr's/ 16,732 feet's, Summit Camp, altitude: 5600 mtr's/ 18,373 feet's, walk distance: 05 KM)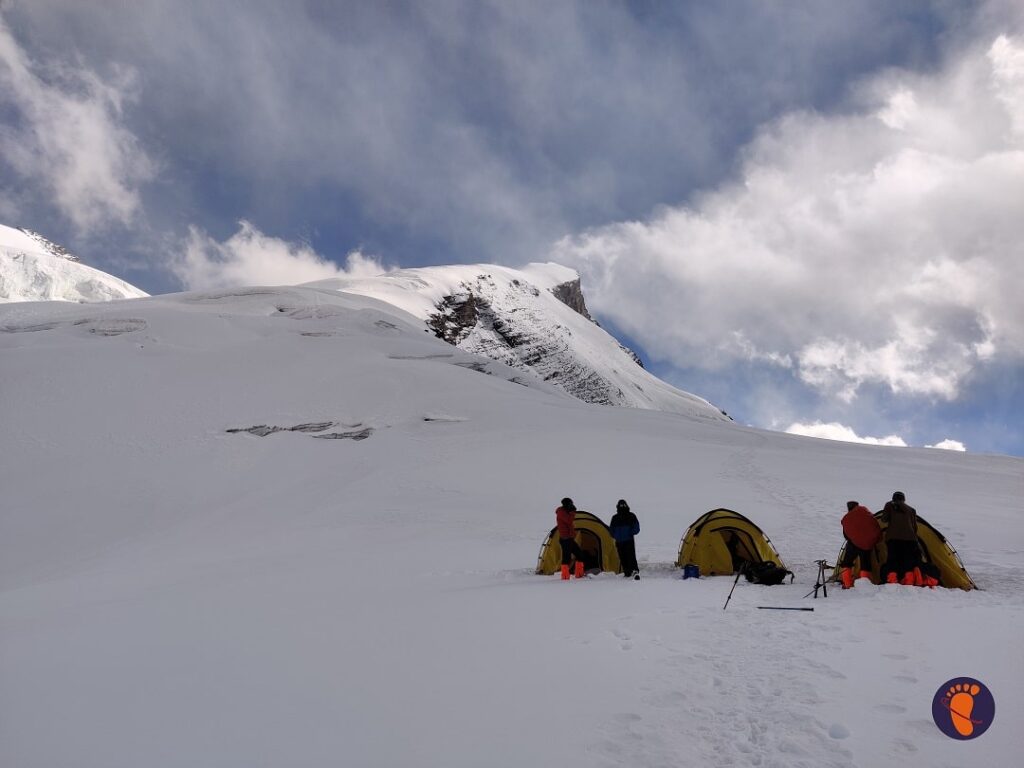 After experiencing the coldest night of our journey and strong breeze which was testing the strength of our tent's previous night, I was just waiting for the sun to rise. No matter how many layers your wear, nothing can match the warmth you get from the sun at such conditions. I could not sleep properly the last night and was just waiting to see the sunshine. Around 7.30 AM I could see the rays hit the tent, I just wanted to step out of the tent immediately, but the door sleeves of the tent were frozen, and zips were jammed, I had to first dust all the ice which was on the tent and then juggle the zip to open them. I have no words to explain the first sight I got as soon as I opened the zip. The rays of the sun were cutting through the clouds, and it looked like a spotlight focused right on the peak of Kalanag and the layers of clouds slowly clearing from the middle of the mountain and passing towards Bandarpunch 1, the white giant. I just sat at the door for few minutes just to absorb this magnificent play of nature. I was totally high on mountains, and all this was like a hallucination.
Finally, after 15 min I was brought out of this hallucination. We had to quickly finish up our morning rituals, pack our stuffs and be ready for our breakfast. We had a short discussion about onward journey. The next 2 days were the most important and it was going to be an epic for each one of us. We were shown our destination which appeared to be close enough and the distance for the day was just 5 kms, which looked easy at that time, but the short stroll from previous evening had already given us a hint on how the journey ahead would be. We all were ready and for the first time the entire team started hiking together. The next two days was more like a continuous hike till the summit and back to camp 2. With lot happening in the mind, we just started our hike. Looking at our first destination and taking a glance at the summit we took our first step. Today it was all about walking in snow, opening the routes, maintaining steady pace and working as a team. After climbing a gradual incline, we reached the flat surface which opened up the full view of majestic Kalanag. It appeared like we had just entered the door of a divine world and it matched all my imagination of a heavenly place which I had always heard of. Only 9 living creatures who looked just like a piece of scrap, facing one of the ultimate and powerful creation of nature. I just continued my walk while my soul was lost in the beauty of the sight my eyes had. After an hour of walking, we reached a spot. A frozen pond in middle of a glacier. Hari bhai quickly ran to the pond to break the surface and fill the cans for our onward journey. We all stood there to take some pictures. We were surrounded with all the high peeks around the range, all white and the snow was glittering like gemstones. It was like a milky paradise. We could see the huge open crevasses and some small snow bridges which was on our way. It's when I realized that, how wonderful our journey would be, my heart had already increased its pumping. Just about few steps ahead we came across a big plastic bag filled with trash which was left behind by the previous team. We had met this team on our way up on day 3 of our journey. Unfortunately, they were not able to summit. They had just dug small pothole in the snow and dumped all the trash inside it. This is not the right thing to do in this place. A responsible hiker would never do this. It was disappointing and disgusting to see the mess they had left behind. We quickly gathered some of the trash and put it back to the bag and kept it aside to carry it back on our return. We started off from that place and looked at our destination which now looked to have shifted its place. It appeared to have gone further behind. I just realized that journey through mountains is always deceiving. I took a deep breath and just started walking, the journey was full of ups and down.
At times it was a steep 60 degree climb and at times slightly flat trails to get our breath back. It looked as if we have been tested on our endurance. Minute by minute I could see our lead team going further and further leaving me behind, but I had our super Chacha beside me and I had nothing else to worry. I had dropped on my pace as I walked but Chacha never left our side, I was taking deep breaths, stopping very frequently, gathering my strengths and walking. I even started counting my steps just to be focused and to have a controlled breathing, it was because of the quick elevation I was gaining. Right at that time I reached my first hurdle of the day. Crossing a crevasse, that too, over a small hard ice bridge. I could see a deep hole on both the side of the bridge and a huge ice burg hanging on top. I just took a pause, trying to gasp the situation and thinking on how to take the step. We were only three of us on this side of the bridge, the rest had already crossed it and we're waiting on the other side. Even before my mind could act, our Chacha held the hand of the other person and asked me to just follow him as quickly as possible. Chacha pulled the other person, told him not to stop and started to make his own route over the crevasses. People on the other side just stood and watched us move. Even without thinking for a sec I just started walking on the same foot markings. I dint even look an inch away from the foot marks and within a minute we were on the other side. I just sat down for a minute and took a deep breath and looked back on the route which we had just crossed, my heart started beating harder and harder, I couldn't even utter a word, just looked at Chacha and told him thanks. We had to go through few more of such crossings in next half an hour, but this time it was little better as I was given time to cross them over. One of which was on an ice bridge which had cracked on both the side. I had to just step on it hoping it won't crack while crossing over. I just focused on the foot marks and took my steps as quickly as possible, after crossing the bridge I see my team sitting on the edge of a long wide crevasses and laughing out loud. Trust me this was one of the craziest things we had done, even I had to rest there. I just sat down, drank some water, ate few nuts and dates and even an apple, that was my lunch for the day. By this time the entire team had split, I could see 2 to 3 clusters walking like ants at an uneven distance. Me Chacha and one of my fellow climbers were the three people leading the tail. The middle and the end part of the trail were steep incline, covered with soft snow, at times we used to take a knee-deep dip while walking and at times we had to stamp the snow to make it hard enough to step on it.
Hour by hour our destination kept on deceiving us. It looked as if it was shifting its place looking at us getting closer. The site which looked closer from the camp now looked hard to reach. I had already fallen behind, was finding it harder to take steps, was continuously gasping for breath and my heart was thundering. I was at the last leg of the trail which was a steep 60-degree climb. I could see my team standing on top and waiting for us. All that I prayed at that time was to have strength to reach the stand for the day, with all the left-out energy I just pushed myself on every step. Finally, after an hour I made it to the site. 30 meters from there, I could see our bright yellow tents, jiggling in the breeze, in the middle of the Milky Way, right below the summit and fully surrounded by patches of clouds in which the sun and its rays were playing hide and seek. Even with all the tiredness I just stood there for 5 minutes to enjoy and to feel that marvelous sight. Prakash bhai rushing down past me to help the other climber who was 50 to 60 meters behind me with Chacha, I had not even taken 15 steps and Prakash bhai was next me with the bag from the other person. Trust me these people are from some other planet. We were welcomed with a loud cheer and claps from the team who were already there. I was standing at the highest altitude of 5600 meters, I had ever climbed in my life and had not even dreamed of doing it ever in my life.
Reaching the summit camp was itself a great achievement in my life. I quickly went to the tent to drop my bag; tent was pitched on a small stretch of flat surface covered with soft snow. The team had to work hard to tap the snow to make it hard and place the anchors to tie the tents. When we were taking thigh deep dips with every step we take, the team had really worked hard to secure this place and pitch the tent in such conditions. Hari bhai, Ganga bhai, Arjun Bhai and Satish bhai were already busy preparing tea and snacks for us, while Chacha and Deshraj bhai were discussing on climbing further to open the routes for tomorrow. It was already 4 in the evening and the temperature was around -6 to -8 and wind was catching speed minute by minute. Just then I realized that We had started our hike around 9.00 in the morning and managed to reach the camp around 3.30 PM, I had taken almost 6 and a half hours to complete 5km distance, this explains the trails and the condition I went through. There was a slight snowstorm, but we still stood outside the tent, drinking our tea, and totally lost in the golden hours. While we enjoyed our Maggi, Chacha, Deshraj bhai and Ganga bhai went on a small stroll to open the routes.
 As the sun started to set the entire place changed the color. Within minutes, everything which was white turned to gold. It was truly a heaven, and I was back to my hallucination. All my tiredness was taken. I just felt like all my strain was absorbed and blown out by the breeze. I was lost, it was like I was standing on huge snow doom, staring at mount Swargarohini which was at a far distance, hearing to our tents ruffling in the storm, the mighty Kalanag right behind me and the marvelous, calm, and sturdy White giant Bandarpunch guarding us from my left. It was getting too cold and had to rush inside the tent, this time All four of us got into one tent, just to stay close which will help to generate and maintain more warmth, we all got into our sleeping bags and zipped up. 30 min later our team who had gone to open the routs came down with few anchors which were left behind by the previous team, it looked like they were just pushed back from this place, and they had to run leaving things behind. Well, all that we hoped was to be favored by the cosmic forces and allow us to complete what we had come for. Few minutes later we were served our dinner at our tent and post that were asked to get as much rest as possible. We were just few hours behind from the destination and the crew wanted us to be in our best possible condition for the next day journey. All 4 of us were not able to sleep. We just spoke about the next day. We were waiting for it, but we had to get some rest as we had only few hours before we attempt for summit. With great difficulty we all closed our eyes and tried to get some sleep.
Day 9: 14th October 2021,
Summit Camp to Summit and back to Camp 2
(Taluka, altitude of 1950 mtr's / 6398 feet's, Osla, altitude: 2590 mtr's/ 8498, walk distance: 21 KM)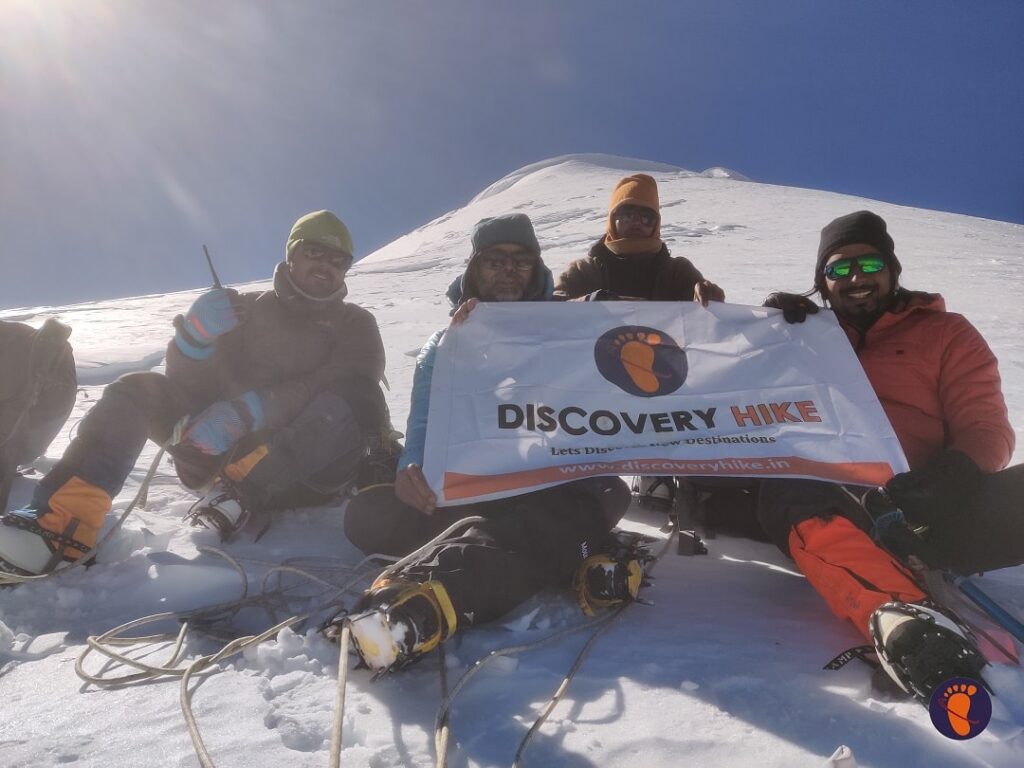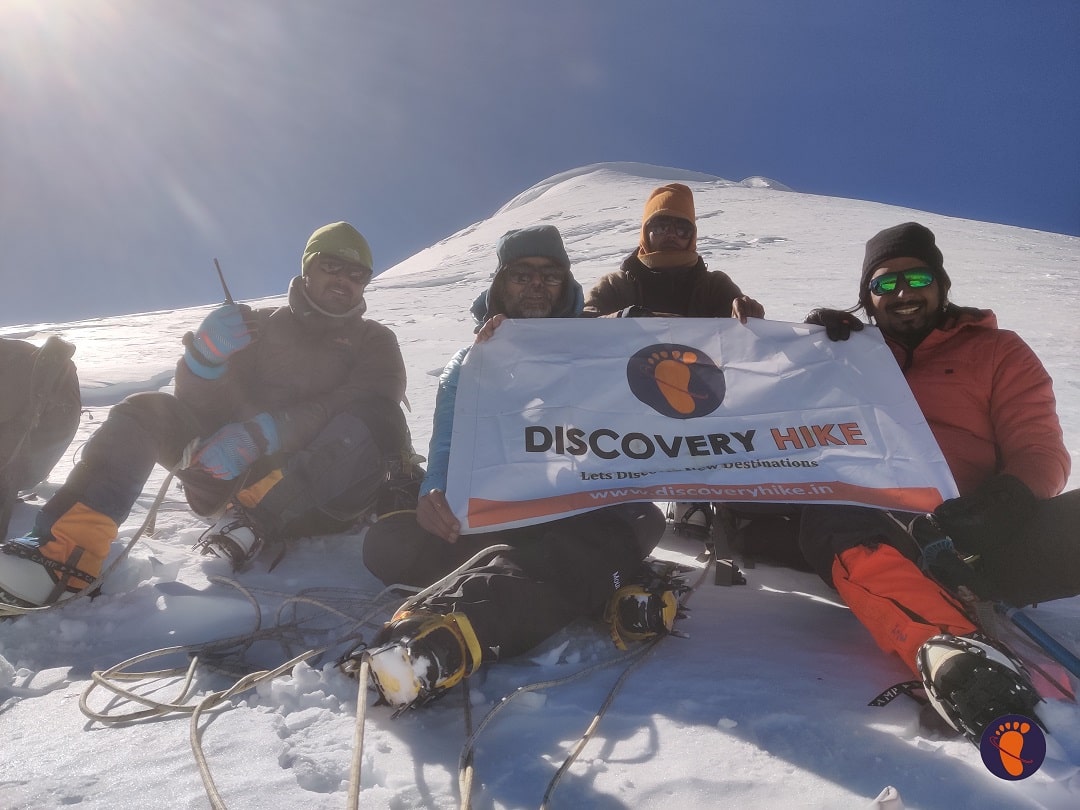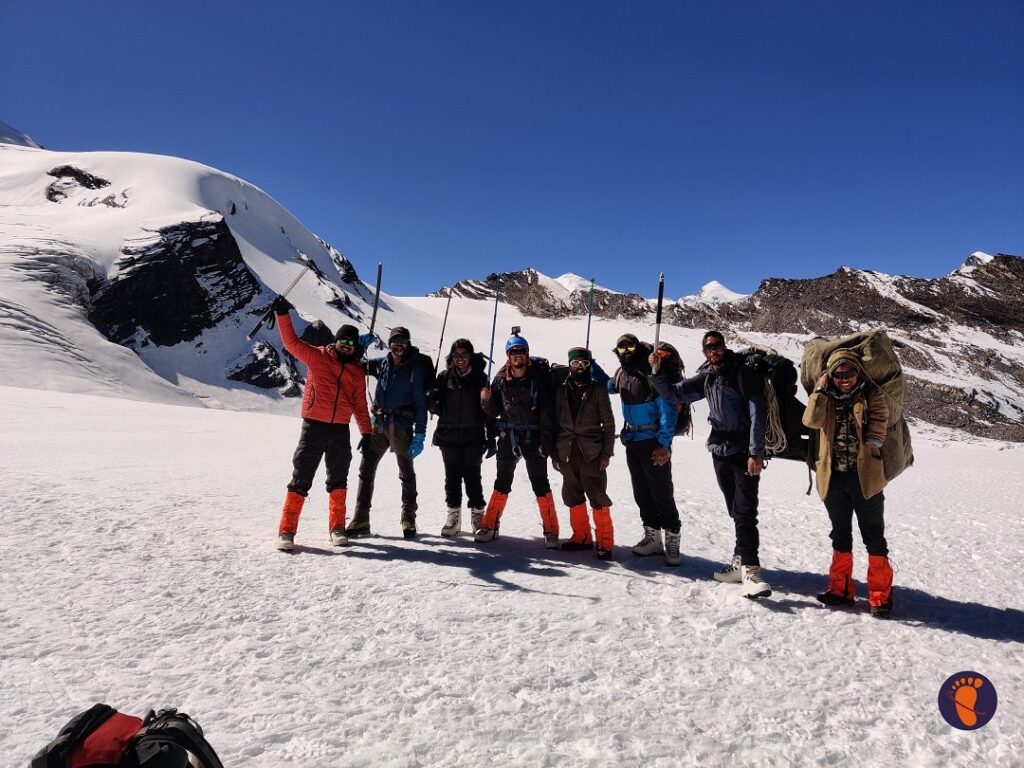 With lot of thoughts running in mind, the wind trying to tare open the tents and with lot of efforts, I was finally falling asleep and right then there was voice saying 'Chalo Sir Uth Jao' I thought it was a dream, but again heard the call, this was for real and that was from Prakash Bhai giving us a wakeup call at 1.30 AM. Yes, you heard it right 1.30AM. This was the D Day we all been waiting for and today we were attempting summit and we were supposed to start the hike at 2.00 AM.
We quickly got up and started to search for the necessary things. We were told what exactly had to be carried and what had to be worn. So, we had slept with the same dress and had already packed the bags. But this time we had to carry an empty bag with just enough water to drink and few chocolates, energy bars and dry nuts. The snowstorm was still on, and it was freezing -17 degrees outside. One by one we wore our boots; crew helped each one to wear the crampons and they even checked everyone's safety gears before starting off. After a complete check we were ready for the big day.
4 climbers and 6 crew members, no other living creature which was visible, standing at an altitude of 5600 meters, wind blowing at its best and spraying all the snow on to your face, moon hidden in clouds and playing hide and seek, visibility only till next 10 steps ahead of you, limited light which was of our own head torch and up above was our destination shining now and then to the open moonlight. With all these things and a lot more running inside, we were ready to attempt the summit of The Mighty Kalanag which had not allowed anyone to reach its summit in past 2 years. With a final cheer to the lord of lord Har Har Maha Dev we took our first step forward.
Today it was all about elevation, steady pace, tackling snow covers, controlled breathing, crossing less visible crevasses and looking out for each other. The entire trail for the day was incline and fully covered with snow at least of a knee height. We had one lead climber behind every climber and 2 technical and 1 lead climber ahead, opening route for us. It was pitch dark and all we had was our head torch which gave me a visibility of 5 steeps. I just had to bend my head and look for the foot marks and follow them. I had to take heigh steps at time and at times had to kick hard to make a steady ground to take a step, I used to lose my balance when my feet took dips in snow and had to struggle hard to pull the foot out of it and move on. Even without visibility, I was able to sense the elevation that I was gaining at every step I took. As I started walking upwards my breathing became irregular due to dropping oxygen levels and was running out of breath. I had to stop after every 5 to 10 steps and was gasping for my breaths, to add to the trouble there was a strong freezing wind which was forcing us backwards. The temperature on that day was about -15 to -17 degrees and my palms started to freeze and that really hurts. A weird pain and was not able to feel it for some time. This was due to the bad quality of gloves which I had chosen, it did not have the wrist lock strap, due to which the freezing wind was passing through the gloves, but for all this I had Ganga Bhai behind me, who kept on instructing me on what to do when. It was like a heavenly voice motivating me all the time and guiding me to the summit. Lack of day light was the advantage we had, as we were not aware of the hurdles, we were passing by nor the distance that we were covering, we just had to look down and concentrate on the steps we take and when I had to lift my head all that I saw was a few torch lights flashing at distances and the summit of the peak shining in the moonlight.
Without even realizing we had walked for almost four and a half hours, it was around 6.30 am when the first rays of the sun started to shine, at a far distance I could see the long range of snowcapped mountains and for the first time in my life I was seeing such huge and large mountains from a top view. We had already covered 60% of our journey towards summit. I just stood there for few minutes to enjoy that fabulous sight.
The next 40% of our journey was most challenging of all, we had to climb up in a zig zag way and had to take horizontal steps instead of straight steps. I had to kick my crampons harder inside the hard snow and balance my step on half foot. It was like climbing a vertical hill with just half foot on the ground and the other half hanging outside and we had to climb like this for the rest of the trail. After an hour and a half of climbing we were on top of all most all the mountains in the range. The dawn was fully out, and the view was clear. It was the golden hour of the morning. The entire snow-covered mountains surrounding was glittering like a gold coated temple towers. No matter where you see and how far you see, it was all glittering gold and there were clouds passing through like cotton candy. A true feeling of heaven as shown in most of the movies. We had already reached 5900 meters and were slightly above the mount Garud which is almost attached to mount Kalanag and the summit of which was just 487 meters above us but the surface was covered with soft snow, so the team decided to rope up. Quickly Deshraj bhai and Ganga bhai went up and were trying hard to fix an anchor while we were busy absorbing all the vibes in these mountains and trying to take few pictures and videos. Finally, all four of us were roped and Satish bhai stood guard of the tail making sure we took right step. It was the hardest climbing I had ever experienced. A steep 70-degree glacier wall and I had to put even my arms to work. At times I felt that I am walking like a lizard on the wall and at points the team was pulling us up. Finally, at 9.50 Am we were standing at the summit the mighty Mount Kalanag. A pure divine feeling, standing at an altitude of 6387 meters. Surrounded by the magnificent high mounts of Himalayan ranges, sun shining bright on you and a limitless flow of all the energy the nature can offer. It was a first such sight and feeling in my life and I can never explain that in words. I was stunned to my soul and just sat down, felt the peace touching my souls and my body waving slightly to the breeze. We just sat down for a while, while Ganga bhai and Deshraj bhai went a little ahead to completer there promise of taking of their shirt at the summit. It was all crazy for next 15 min. There was celebration, there was silence, there was joy, there was prayers, and these was still lot of energy in that space. We spent about 30min on the summit and decided to descend. Going up was a challenge but getting down was much challenging as we were able to see all that hurdles, we had crossed during dark, and you start thinking in a different way when you see things. We took our time, enjoying all those amazing sights which we had missed on our way up. Stopping at the most shocking spots which would have sent the chill to our spine if we had to cross it during day. We took 2 and a half hours to reach the summit camp. Had little snacks packed our tents and continued our descend towards camp 2 which was our destination for the day.
The weather started to change while we were getting down. The clouds started to form and covered the complete area, and the wind was catching speed. We lost the visibility and literally had to search for trail marks. It was as good as a whiteout. We were a kilometer away from our camp but pushing through this condition was getting challenging. We had started our climbing at 2:00 am that day, had taken very minimal and short breaks, had eaten very little and we were continuously walking. As a matter of relief, I finally caught the sight of our yellow tents. But this time they looked more like a castle than just tent. There were applaud, shouting to welcome us, team was congratulating each other's for achieving what was not achieved for past 2 years. I just dropped my bag at the tent and immediately took off my snow boots, thanked it for taking care of my foot and just crashed on a rock, recalling everything I had gone through that day.
Soon I was woken up by Chacha with a cup of hot tea and a box of popcorn. Yes, popcorn. I had not expected this as well but just grabbed it first and started hogged it like a mule while others grabbed their cup of tea and started talking on how crazy the day was. Every one of us had at least few hearts to mouth moments of their life. Each one of us were fully intoxicated with what we had experienced that day. We had a small discussion on the next day plans and it was decided that we will be heading directly to base camp the next day, skipping camp 1 as the weather was changing. It was going to be a long day down tomorrow, so we all got back to our castle for some rest. We were served early dinner at our tent and soon after that I crawled into my sleeping bag.
Day 10: 15th October 2021,
Camp 2 to Kyarkoti /Base Camp
(Taluka, altitude of 1950 mtr's / 6398 feet's, Osla, altitude: 2590 mtr's/ 8498, walk distance: 21 KM)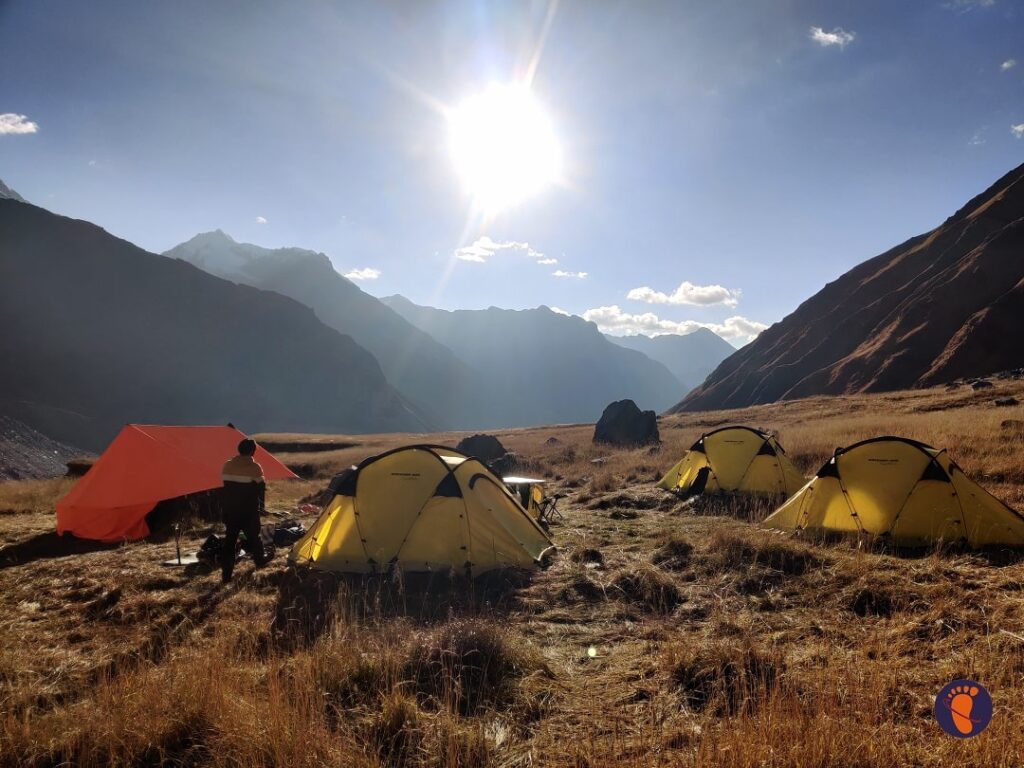 I woke up to a bright but chilly morning, had managed to get some good sleep last night, but my mind was still intoxicated with the memories from previous day. I was still not able to believe we had reached the summit of the mighty Kalanag, which was not even in my dreams. I came out of the tent and just kept looking at the peak which was staring back at me. I could see the footsteps marking of the trail which we had made, and my mind was running films of the moments I had spent there.
We had no time to waste as we had a long day ahead, I quickly finished my morning rituals, the tea was ready, we quickly finished our tea without even talking to each other, everyone was still lost in those wonderful moments. Soon after the tea we began to pack and sat down for the breakfast. Now we started to recall the paths we had to walk for the day and the first thing which came to all our minds were the landslide prone crossing, boulders sliding down, the walks on the edges of the cliffs and the narrow trails of the open mountain meadows. Everyone named one such think and looked at each other and laughed, thinking of how the day would be.
We packed our bags with the lunch box, still we had to carry our gears along, which made our bags heavier. The only goal for the day was to reach the base camp before sun set and the only plan was to cover the descend trails as fast as we could and take time in covering the incline portion of the hike. It all sounded good when we spoke and planned.
We thanked the mountain gods for allowing us to complete the summit, took a final look at the peak and surrounding and finally waved a goodbye and started our descend towards base camp. For first couple of hours, we had to walk on the boulders, cross few fast-flowing streams, our trail markings were gone in few places and in few places, there was overflowing. So, the crew had to make new ways in such places. Descending will not be easy as the entire trail was alike, it's a mix of every possible trails you can think of. You will have to spend same energy and put same efforts which you did while climbing up. We had to be extra cautious while going down, you can't take any lose steps.
All we did was to follow the lead and just keep walking we had walked for 2 continues hours without taking breaks, all that in mind was to reach base camp as early as possible. Just by then we reached our first landslide crossing. We dint think too much, we were aware of the technics on how to cross them. Again, I just looked for the foot markings and followed them as quickly as I could and, in a minute, I was on the other side. The crew waited for everyone to cross and then we continued. There was no talking at all. Everyone was recalling their previous day experience and went quiet. We just kept walk and walking. We crossed one other landslide regions in the similar way, but the last one which was just before the camp 1 was little scrapped up. There was a fresh slide and the crossing route had completely gone. But our lead was quick enough to figure out the alternative route which was slightly challenging we had no other option than to burn some extra energy and push ourselves a bit. I just went for it with my heart in the mouth. Finally, in 15 min the entire team was on the other side, and we reached camp 1 site, where we stopped for lunch.
We had taken 4 and half hours to cover 5 km. We quickly had our lunch, took break for 20 mins, and started walking again. We could see our big orange tent at a far distance, waiting for us. Again, the same pattern of trail. We just kept walking and walking. Half was through I was already feeling tired, my knees were stressed, and I could feel the shiver in them in every step I take, I had gradually slowed down and I was the tail of the crew. We had taken only couple of breaks just to filling our water bottles or to drink water. While going up I used to stop to click pictures but now I was doing it on the go. It was already 4.30 PM and we just had couple of hours of daylight. We were about a kilometer and half away from the destination and more importantly we had one important crossing. Thinking of it I just arrived at it and the looks of it was very disturbing. There was a heavy landslide either this morning or the previous night and the entire place was scrapped. There was only one possible way to cross it, had to go down for about 200 meters and then climb up vertically on a very narrow path of hard surfaces by holding small rocks and small patches of grass here and there. The team had already crossed it and only our super Chacha, me and one of the fellow climbers were left. Having Chacha on our side we had nothing to worry, Chacha held the hand of the other climber and stared running and I without thinking ran behind him. We went down and started climbing up, I had to wait in middle for them to cross the path as it was very narrow. I was literally hanging virtually, in the center of the mountain, standing on single leg, holding a small patch of grass in one hand. Was just waiting for them to get on the top so I could run there. I dint look up nor down I just ran as soon as they crossed and sat on the rock and started to gather my breath. Just when I raised my head I could see our tent, waving at me, I so wished I could just roll down to it, we had at last reached our destination for the day, it was cold, I just kept my bag in my tent and went straight to the kitchen tent which I had missed for all these days, we all sat there had our tea, I was craving for Hari bhai's signature veg cutlet and for our surprise it was already prepared. I literally wanted to kiss Hari bhai for that, but my mouth was already stuffed with cutlet and then everyone started to talk, there was a lot of talking for next one hour.
Just then we had one more surprise, we were two days ahead of our schedule and had to wait for one day for the mules to come to base camp. The team decided that one person will start early morning tomorrow and go to Osla and get the mules the next day morning. So, tomorrow was a holiday for us, and we had one full day to rest. What best can you expect after a 14 KM long walk? With this good news we started preparing for our dinner. There was a lot on the menu today. Roti, Dal fry, Rice, Mixed Vegetable Sabji and coconut burfi. I couldn't ask for more. I just started hogging. At around 10 PM we decided to crash. With too little to do tomorrow, I just went to sleep in peace.
Day 11: 16th October 2021,
Kyarkoti /Base Camp (Rest day)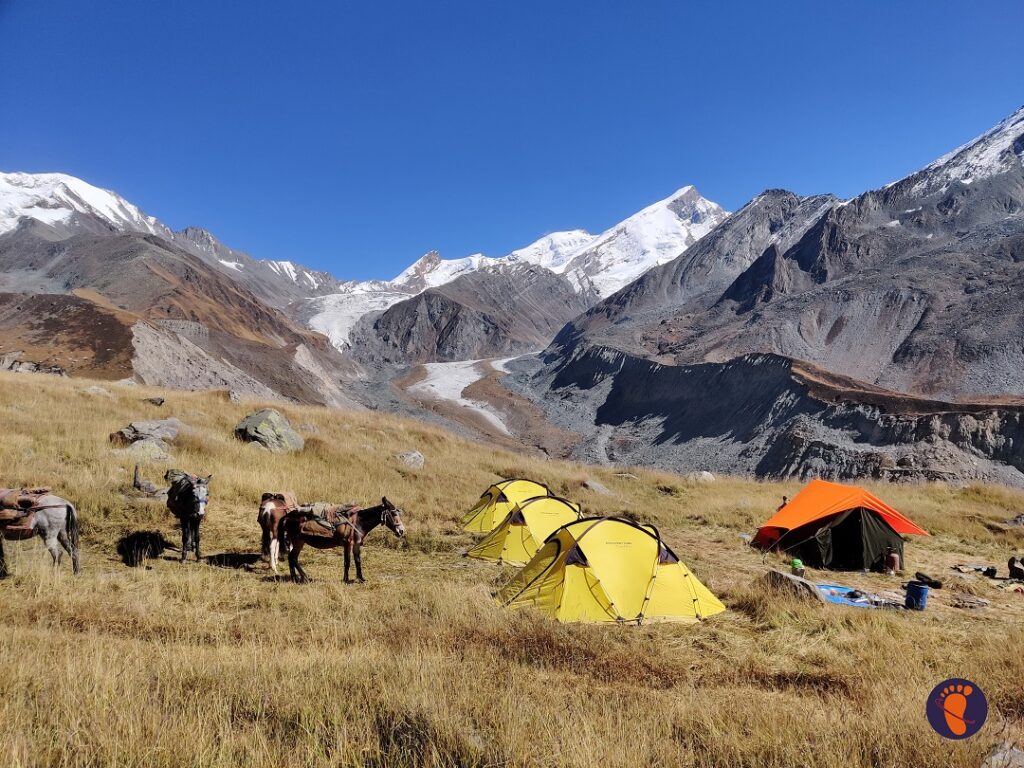 A day off, with a pleasant weather, at the foothills of humongous glaciers and in middle of an expedition is one of a kind luxury one can have, we woke up at around 8.30 or 9.00AM, it was the longest we had slept on this expedition, it was a fabulous and refreshing day, I just came out of the tent, wished everyone, the crew was up and running as couple of them had to go to Osla. I just stood there, with my teacup enjoying the marvelous sight around, I washed my face with water after 5 days, my upper cheeks and nose had completely burnt, and the cracked skin was slowly peeling off here and there.
We had stuffed Paratha's for the breakfast and with absolutely nothing to do after that, we thought of quickly repacking our stuffs and have the bags light and ready for the next day. The greatest relief was that the major weight of our gears was being moved to mules here after and we decided to put one more bag on to Mule which was slightly damaged, so packed all the unnecessary things to that bag and kept it aside. So, for the rest of the day was a picnic for us. We rolled a mat on the grass, started talking about the experience and had a lot of snacks and dry fruits to finish.
Deepak pulled out his JBL speakers, we still had lot of power left on the power banks, so the songs started to play one after the other and went on. Perfect weather, perfect company at a place which could only be picturized in dreams. What else can you expect. Our lunch was ready, and we had a lot on menu. Base camp was like a second home far from home, for now our first home was Sankri. Post lunch we decided to take a midday nap. It was already 3.00 PM we slept for couple of hours and were out to enjoy the mesmerizing sunset and the evening breeze with Hari Bhai's signature herbal tea and pakora. Just after an hour we saw our crew was coming back from their journey. These guys were faster than mules. We all again crawled into kitchen tent, the warmest place in the surrounding. The weather had started to change in the evening and our weather expert Chacha told we will have to start early tomorrow morning as it look to snow tomorrow. So, the team started to discuss the plan for tomorrow and decided to head straight to Seema. It was too long for us to cover in a day, and it would become worst if the weather changes as predicted by Chachaji, so finally half the team was ok with Seema and half though will decide after reaching Ruinsara Tal which was supposed to be our next stop as per schedule. Our full course dinner was ready, and we were back to hogging mode.
After a long and full dinner our fantastic day off was over. We were asked to be up by 7.30 tomorrow and start our descend by max 8.30 AM, we all just said aye aye captain and went back to our tents.
Day 12: 17th October 2021,
Kyarkoti /Base Camp to Seema
(Walk distance: 23 KM)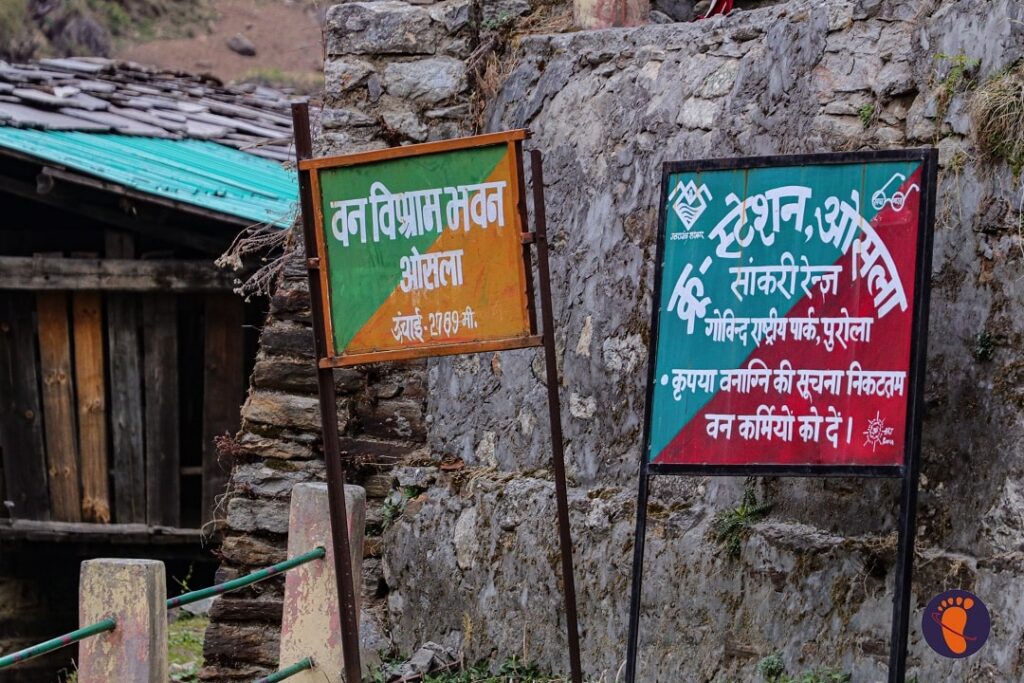 The night was freezing and breezy, I had to wake up twice just to check that our tent was intact, and I could barely sleep. It was evident that the weather was changing. Morning I woke up around 7.00 AM and when I stepped out of the tent, I could see only clouds all around the place. It was as if I was standing inside a cloud. But luckily, they started to clear up in some time. We quickly finished our morning rituals, and our crew was ready with the breakfast and our lunch box. As per the plan we had to leave that place as early as possible. We finished our hogging and soon got ready to descend. Looking at the condition it was clear that it was going to be a challenge and a long day today. Our mules had arrived, and team was already loading things on them as we along with Chacha and Satish bhai started off while the remaining team was dismantling tents and packing up thing. We took the same trail by which we had come but the difference was that it was cloudy and cold. It was a combination of gradual incline and decline trail but to start with we had to cross over the sloppy narrow grassland over the edges of the mountain. The plan was simple for me, bend your head, look for trail marking and just keep walking.
Just after 2 hours, Chacha Ji's prediction came true. The weather had completely changed. From a shiny bright day to cloudy cranky day and for our surprise it started to snow. Yes, how lovely it is, it was the first snow fall of the season and the best of it is to experience it at that altitude. Finally, the missing factor was here. Although the snowfall was supposed to be a trouble, but everyone took it as a joy and we started to enjoy and celebrate this challenge. We quickly covered ourselves and our bags and continued walking as if nothing had changed. But the fact was the snow had made the trail slippery and we had to be extra cautious with every step we take. The snowfall gradually reduced as we got down, when we looked back to our base camp region nothing was visible, the peaks were fully covered, and it seemed like the snowfall had gradually increased.
30 minutes past another surprise was waiting for us in a distance. It started to drizzle. Seriously the last thing we were expecting. Now the entire expedition was a complete package. It took no time for the drizzle to get rainy. We had no choice but to enjoy it. Each one of us were in our own pace and were scattered. Satish bhai was leading, Chandraveer and Deepak were following him from a distance a little far from them was Chacha waiting for me and other fellow as we were taking a little longer time as we were walking and recording. We couldn't stop for break as it was raining. I just kept munching on nuts and chocolate and kept walking.
We had walked through the slops, over the grasslands, under a waterfall which was newly formed, crossed the mountains, passed through the dry forest on boulders and now we were walking right in middle of the valley, which meant that we were nearing Ruinsara Tal. It was 12.30 or 1:00 PM and we had reached Ruinsara. The picture had completely changed. The site was bright and clear when we had come and now it was rainy, and all covered up with mist. It was like two faces of the same coin. We quickly took shelter in the abandoned forest office which was now a kitchen and a camp site for all the hikers visiting there. We were all drench and literally shivering, Our Chacha made a small fireplace for us to warm ourselves and we decided to have our lunch there and even our mules arrived. While having lunch we quickly decided that we will continue walking and will head to Seema directly. All our cloths, socks and even shoes were wet and as it was raining, it would have been very difficult to pitch a tent and dry our clothes and shoes for the next day. So, it was Seema and we had a luxury of a wooden house to stay there.

From here the trail was mostly descend but we had to cover 14 more kilometers we had already covered 10 Km to reach here, and it would make 24Km for the day. This would be the longest distance we would be covering in a day on this expedition. Good thing was trees were back and we would get some cover from the rain and all we had to do was increase our pace a bit. We dint waste much time, soon after lunch we started off all that we had in mind was to how to tackle the steep muddy climb at the last leg of the trail, just after the wooden bridge. It was a well-marked and wider trail which helped us to navigate easily and faster we decided to avoid taking unnecessary stops, we drank water on the go from the streams and just walked like mules with our heads down.
In three hours, we had already covered closed to 9 KM. We reached our first pit stop which was the last tea shop when we started. We were glad to see other people apart from our own group. There was an entire group of Bengali dada's who had camped there after completing their Har Ki Dun trek and were on their way to Bali pass but stuck there for now due to rain. They had a running fire and we thought to warm ourselves. We were almost like a creepy wet bag walking around with a stick. They gave us a cup of hot tea which was a life saver. We quickly drank the tea took few pictures with the team and stared off. We were still 5KM away and steep sloppy hill was waiting for us. Within 30 min we reached the bridge, and our challenge was right across that. Not sure what had happened instead of slowing down we got all excited, started howling and ran towards the bridge. We stood there took selfies and just went inside the hilly pine forest which was just waiting for us. The rain had changed the entire equation for us now. The trail was full wet, muddy and slippery. At the beginning we were just praying to get past this, but now we were praying to just pass this without slipping, one slip and you land strength into river Rupin and looking at the flow, God knows where you would end up (not alive for sure). Now we were not bothered about how to climb up rather the focus was to take firm steps and balance. It was tricky but fun and even without realizing we were on top. I was standing in the same place from where we had our very first sight of the mighty mount Kalanag and the Bandarpunch range, but this time they were all covered with clouds.

It was already 5.00 PM, and we were losing day light, we had still 3KM to cover but the trail was easier. From here, it was more like a jolly walk, but we were drained. Just after a kilometer we saw the goats grazing, paved ways and a wooden house. This was the end of the civilization for us a few days back and the same thing is now the beginning of the civilization. A huge sense of relief knowing that you are finally nearing the destination. At around 6:00 PM we arrived at our wooden house. We were fully drenched, tired, and desperately wanted to get into warm cloths.
The crew had already arrived and was arranging things for us to settle in. We just dropped our bags and removed our shoes in the living area and ran upstairs to change. Lucky our layering cloths were still dry. But everything else in the bag which was not packed properly was wet. We quickly changed and just put our wet cloths all over the floor to dry and ran to kitchen to warm ourselves. Our tea and snacks were ready like always but this time holding a hot teacup was a level up experience and soon after that we were served the magical Maggi, I almost had tears in my eyes looking at the plate (not really but almost there).

The entire team was in the kitchen and now we had to plan for tomorrow. It was still raining; all our clothes and shoes were wet. First thing was to dry them up, trust me you will not want to wear the wet boots and get bristles after all these days. The only option was to dry them in fire, but we couldn't find any dry wood around to start the fire, we cannot use the gas stove for sure. So, the team decided to stay back and take a day off again. We were anyways ahead of our schedule so rather than going to Sankri and spending a day there, we decided to do the same thing here and have a small celebration. Everyone agreed and we had a small request along with it. We had not eaten non-veg for almost 13 days now and no booze at all. So, we asked the team if they can arrange for some meat and drinks and the team said yes, but we had to share the cost, Now, what else can you expect, all that you get is the luxury. Satish bhai quickly went to Olsa and picked up few bottles of local home brewed brandy. With perfect weather condition, it was the need of the hour and couldn't wait till tomorrow to try it. we all gathered in the kitchen, the only place which had fire to warm us from outside. we four of us poured a glass, toasted it for the entire team for making this expedition happen and specially having us do it. Hari bhai kept on preparing one after another dish, u just had to ask for it. From dry fruits to chann to pickles to papad to sorted vegetables. The part which was planned for tomorrow had already begun. We had a lavishing dinner that night, we made fun of each other's, played music and laughed our lungs out. It was a lot of fun and thanks to the entire crew for being there looking after us like babies. With all that said and down we finally decided to call it a day and crash. We had a big day waiting tomorrow.
Day 13: 18th October 2021,
Seema (Party day)
(Walk distance: 23 KM)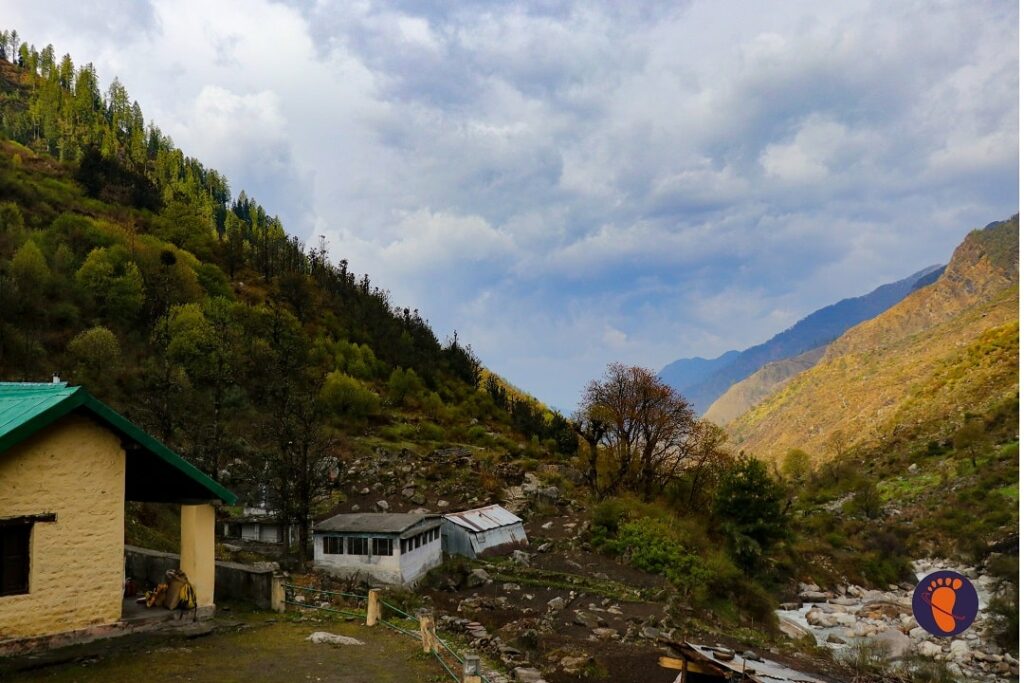 A new day with new excitement and the one on top was the party planned for the day. I woke up to a misty morning. We all had the best and peaceful sleep of the journey, thanks to the local brandy. The crew was already noisy and moving around a lot of things. I was already craving for the meat, had been thinking of it all night and it had not arrived yet, in the meantime Hari bai had prepared the best English breakfast but we just had little of it as we wanted some space in stomach for the lunch. Just while we were discussing Ganga Bhai and his younger brother arrived with our delivery and that was a lot. The team began the preparation. Each one had their jobs to do. 6 ppl on the job, cleaning and cutting things and we were just a spectator trying to understand how things are done the pahadi style, with the first lot ready for cooking, I took the bowl and ran to kitchen and the preparation started. The stove was continually running from morning 6 AM. A little of everything went into cooker and we were right in the kitchen waiting for it. Our first dish was on the place in less than 30 minutes, and it got over in less than 15 min. The crew was shocked. This was just a small starter of about 4Kg meat for 13 people. We had to wait a little longer for the main course. In the meantime, we decided to work on the other important thing. Finding a way to dry our clothes and shoes. Satish bhai, Ganga bhai and Chacha had gone looking for some dry wood to start the fire but due to the rain from last 2 days we had no luck on it. So, we decided to at least soak dry our shoes and socks.
We all went up to our rooms and started to work on the shoes. Had to remove the lace, inner soles and squeeze out all the water and took a dry used sock and pressed it from inside to soak the remaining water and then washed the outer face of the shoes. By afternoon the clouds started to clear and there was some sunlight finally. We quickly had to spread out our clothes to dry. Just the shoe drying process took about 2 hours. While we were busy cleaning of things the crew kept on serving something or other to eat, there was a lot of meat on the plate. Finally, our lunch was ready, and we couldn't wait any more. We all went to kitchen and held our plats. We had Roti, rice, mutton fry Pahadi style and a delicious mutton curry. Even after eating continuously through the day there was no end to our craving for meat and crew didn't stop serving us. We had all that we wanted and as much we wanted. It was a long lunch and finally with a heavy stomach we decided to take some rest and went back to our room. But looking at the room we then decided that there was a lot to be packed for our last day of hike, so rather than rest we decided to pack things and keep it ready for tomorrow. As it was quite sunny from noon till evening our cloths were almost dried. We just kept the things we needed for next morning and packed everything else and it's a great relief to have less things to do the next day when u get up.
It was 6 PM we all went out for our tea, the other teams heading towards another trek started coming in and we started talking to them. Few were supposed to share the stay with us, but we had already taken over all the rooms to dry our cloths, so the team got them accommodated in other place next to our stay. It was a fantastic, peaceful evening with the best tea and hot pakora's. We all sat out at the banks of Rupin river, watching clouds covering the lush green mountains and a free-flowing waterfall running right through the middle of the mountain and recalling all the moments we had spent together all these days. I was not sure what else to expect out the day it was so complete.
We were just a day away from the end of this beautiful journey and we wanted to have a last blast before we reached Sankri, we were told that all treks were stopped from last two days due to weather conditions and there were lot of people stationed at the base waiting for things to get better. So, the party had to happen here and that to tonight. With two more bottles of brandy left from last night we started it right away. We took our first toast for the entire crew, without whom this would not have been possible and went on. I just had 3 rounds as we had a long walk tomorrow. Have had a full course meal, again a lot of meat was on the plate, even after serving full meal for the entire crew throughout the day there was still some meat which was leftover, so we decided to carry to Sankri and have it for our last dinner as well. As the night went on, all the fun, entertainment and excitement also had to go down. At around 11pm we finally decided to end the show for the day and went to bed.
Day 14: 19th October 2021,
Seema to Taluka to Sankri
(Walk distance: 14 KM by walk and 8 KM by road)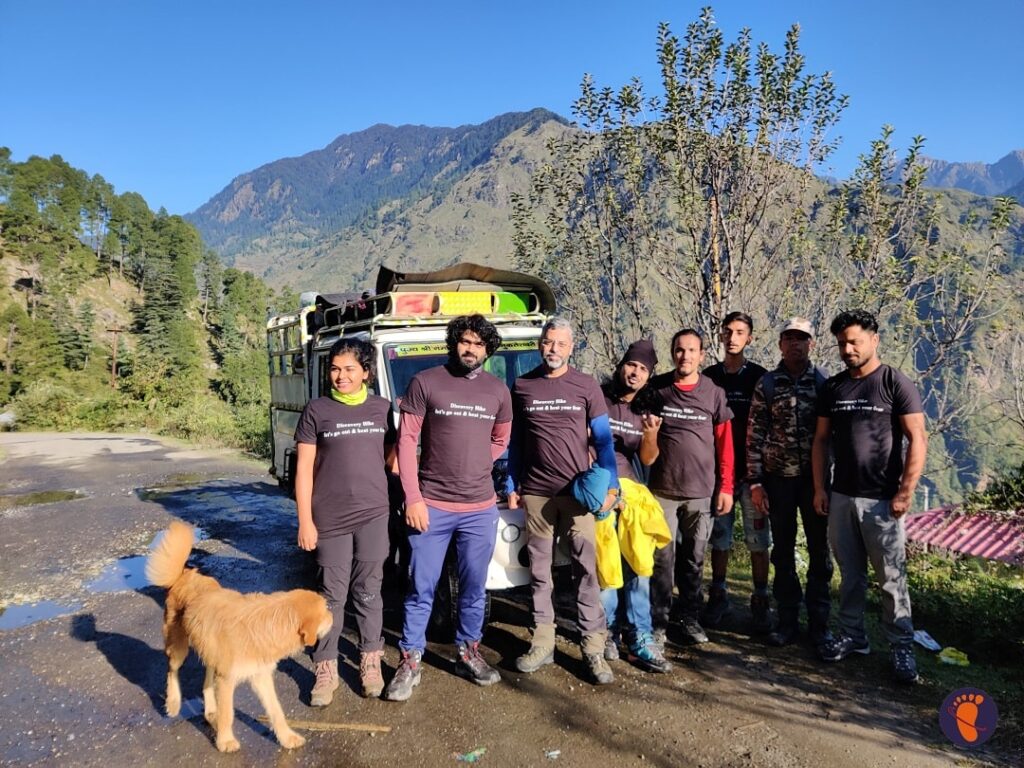 It was misty but the rays of sun were making their way to hit the ground. It's always a delight to see the first rays after a long glumly and rainy days. Finally, there was a green signal from the weather department, and we had to pack our things for one last time in this expedition, but the journey was still not complete as we had only long day to make the best of it. We quickly cleared our things, most of the bags were already packed. We just got up, freshen up, wore our cloths and came down for breakfast. There was bread, jam, butter, boiled egg, normal tea with milk and black herbal tea. Our lunch box was packed with Roti, Sabji and 5-star chocolates. We started with our breakfast, while the team was busy loading mules with the bags. Luckily there was some more space on the mule, so Chacha took my bag and loaded it on to mule. Well, it was going to be a load free walk today with just a light backpack with lunch box and water bottles. Quickly we were done with our eating and ready for the last hike. We had to hike 14 KMs to reach Taluk and 8 KM's from there on wheels to reach Sankri (provided there are no roadblocks like the one on our first day of hike)
It was 8.30 AM and we all came out of the house took some picture with the team. There were cheers, there was laughter, lot of wishes, hugging and still there was a heavy heart. We had to say bye to our luxurious stay and moved on. It was supposed to be a simple hike compared to what we had already completed, but you can't take anything lightly when you are in mountains. We just kept walking and watched our steps carefully. The trail had become very slippery due to the rain. With a lighter load we were little quicker today. Within 30 minutes we had crossed the Seema village and entered the pine forest. Our journey alongside of Rupin river started again. At times beside it, at time above it, at time crossing it over broken bridge, at time on a solid concrete one and at time right next to it, filling our bottles or drinking water directly from one of the streams flowing into it. On the way there were a lot of walnut trees and I even collected few on my way. I missed my steps, I even slipped at times, but I was enjoying all this ups and downs.
We stopped at every tea shop we came across just to spend some more time in the moment. Talked to people we met on the way and even ran behind the heard of goats grazing there. Even after doing all these things, without realizing we had already covered 10 Km's. We stopped at the same spot where we had our first lunch on day one. It was just 12 PM, we took our time to finish our lunch even had a small power nap and started off with our last leg of this journey. Our mules and crew were far ahead of us. It was just we four and Chacha walking the way. We walked as if we were locals and knew this place in our fingertips. In just 2 hours after lunch, we entered the outskirts of Taluka. There were lot of kids playing around and asking for chocolates to trade their roosted grains, but we had none, so I started to distribute some walnuts which I had collected on my way and in return they gave me the grains and finally we arrived at our end point. The team was all set there, our vehicle was ready, things were already loaded on it. We just sat down for few minutes, had a cup of tea again and we started off from there to our destination. I was sitting on top of the vehicle, and it was one crazy experience. You should try once if u get a chance, just about 30 min we had reached our camp site at Sankri.
The camp site was fully occupied with close to 40 people who were waiting there due to bad climatic condition from last 2 days to start their trek, so we had no place there. Quickly the team arranged for an alternative stay in the town, and we were checked in. Now all that we wanted was to take long hot shower. It was 15 days since we all had taken bath and could not wait any longer. While we waited for the hot water, we quickly put out our clothes to dry. Soon finished our bath and went out for a stroll in the city. We were craving for food. There was all that food we had missed so may days. We had all that we wanted, there was Momo's, Noodles, pasta, Cheeseburgers, chocolate shakes and what not. It was 6PM by then.
As it was our last night and we had some leftover brandy. We thought will have one final celebration. The crew could not join as they were busy managing crowd in camp, we started off with our kitty party. Later Chacha and Deshraj bhai joined us as well. We had music, we danced, we sang. All the joy was just there for us. Soon we were called for dinner, and we all started walking to the camp. We were still in a celebration mood but it's a small town and dint wanted to create any new sense there. We quietly went to dining area, finished our dinner and came back to our rooms. That was the last night we had and next day morning we had to pack things and head back to our normal life's. Thanks to the brandy which dragged us to sleep if not it would have been really difficult to put an end to such a journey.
Day 15: 20th October 2021,
Day to say Goodbye
(Walk distance: 14 KM by walk and 8 KM by road)
Without any options left, we woke up with a heavy heart. Had to get fresh as quickly as possible, our ride to Dehradun was waiting. We packed our stuffs and went to the camp site for breakfast. We were all silent, no idea on how to wish goodbye to team which had now become a family. Ganga bhai and Prakash bhai had already left the camp to prepare for another trek. Chacha wished us in the room and had left to Osla that morning. The camp was fully empty as other were permitted to start their hike that morning. It was just we four, Satish bhai and Hari bhai in the camp. Satish bhai quickly got our certificates. We took pictures with them and had to record a small testimonial video and share our experience. Everyone quickly expressed their side of stories and finally the time had come to say heavy bye to this wonderfully packed family. We got into our rider and shut our doors for this time.
Conclusion: 
Talking about the expedition. I consider this as a challenging one and the hike is moderate to tough. The one thing which makes expeditions in Uttarakhand tougher than some in Himachal is the distance which you have to cover to reach the altitude. You will have to cover all the distance by foot here whereas you have wheels to cover major part in Himachal. We covered a total distance of 150 KM's by foot to hit the Summit and back to base with no option of going back after you start the expedition. No matter what's your experience in hiking but for sure you will have to prepare yourself mentally and physically to do this and be ready to push your limits all the time. If you are ready to push and if the natural forces are on your side, for sure these guys will take you till the summit no matter which mountain you climb. We had our ups and down's but never ever the crew gave up on us. They have been a true motivation behind every step we took. For all the mountaineering enthusiasts I strongly suggest having the mighty Kalanag on their bucket list and if you decide to do it there is no one better than Discover Hikes to tag along.

They are not just operators they are a family of mountaineers, they are born and brought up in these mountains and have known them since their childhood, they have complete knowledge about the local conditions and surroundings, generations of expertise in climbing and aided with the most advanced and secured gears. What more can you expect to do the summit of any mountains over and again?
This was my very first expedition and for sure it will be the best one no matter how many more I do. This one will for sure go till my grave. It's as good as one's first love. We had experienced every possible thing one can expect on an expedition. There were easy trails, there were trails which made us to gasp for breath, I had held my breaths to reach a point and there were points with breath taking views, I slipped and raised up strong again. It made me weak but helped me set my mind, there was roaring rivers, smoothing water falls, I walked on boulders and crushed through glacier ice, I got dipped in layers of snow and even showered when it snowed, I had people to back me when needed the most and I was there when they looked out for me, we shared all the stress, load, food, hunger, sleepless nights, joy and toasted for all that we took at the end of the day. We had showered the place with our laughter and even got drenched in rain in return. We started as a team and ended up as a family and this was not possible without a team such as Discovery hike. Any operator can take you on hikes and expeditions and not everyone can take care of you like a baby. It may be your first expedition or pro in the field, they still take care of you as family, feed you as kid and guide you as a teacher and you have nothing to worry when you have them to guard your back. I heartfully thank Ganga Bhai, Prakash Bhai, Satish Bhai, Super Chacha, Deshraj bhai, Hari Bhai, Arjun Bhai and the entire crew including the mules for giving me this life size experience.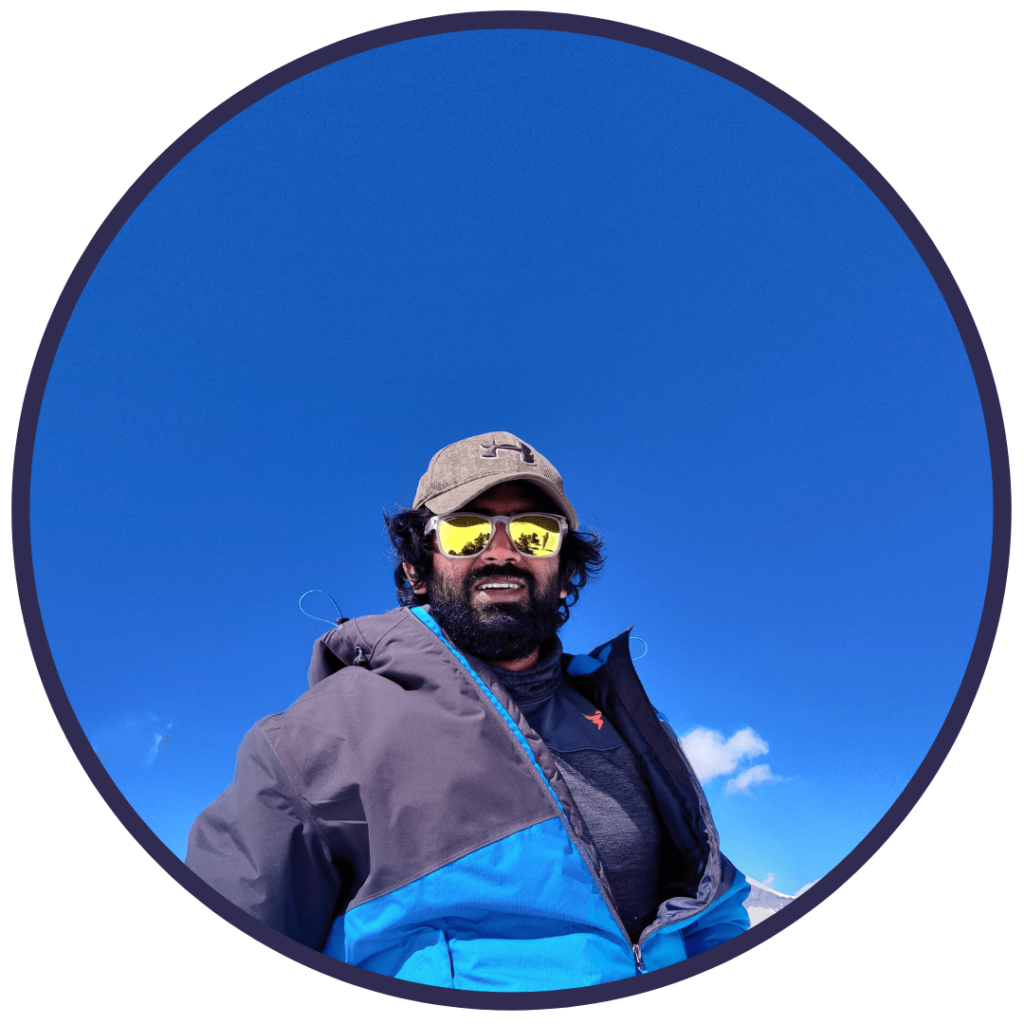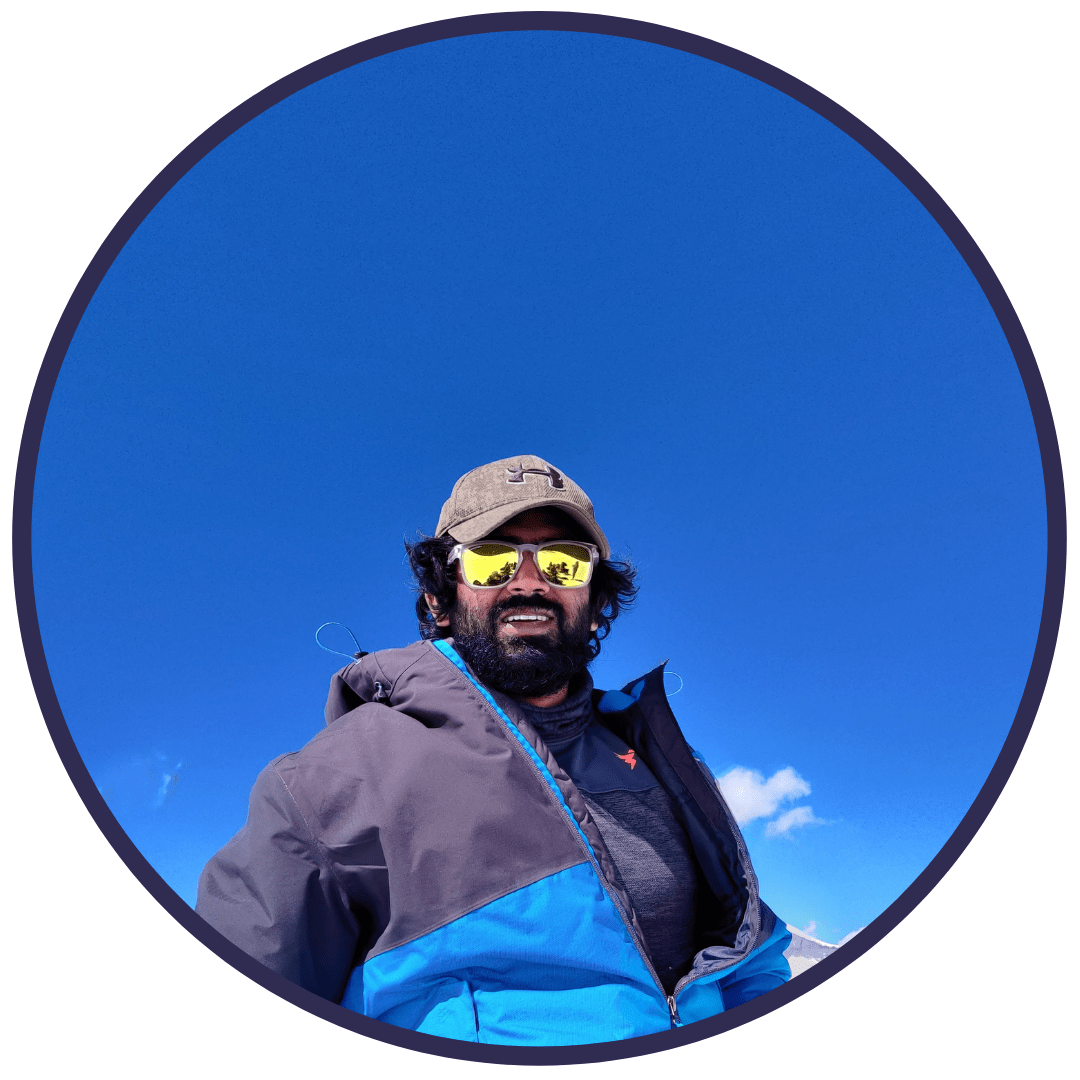 About Author
Pradeep
Nagaraja
For the readers. Myself Paddy, based out of the concrete jungles of Bengaluru but soul always wandering around high mountains to deep sea's and everything in between. I am a HR by profession but have had little taste of many things, just as they say "Jack of all but master of none".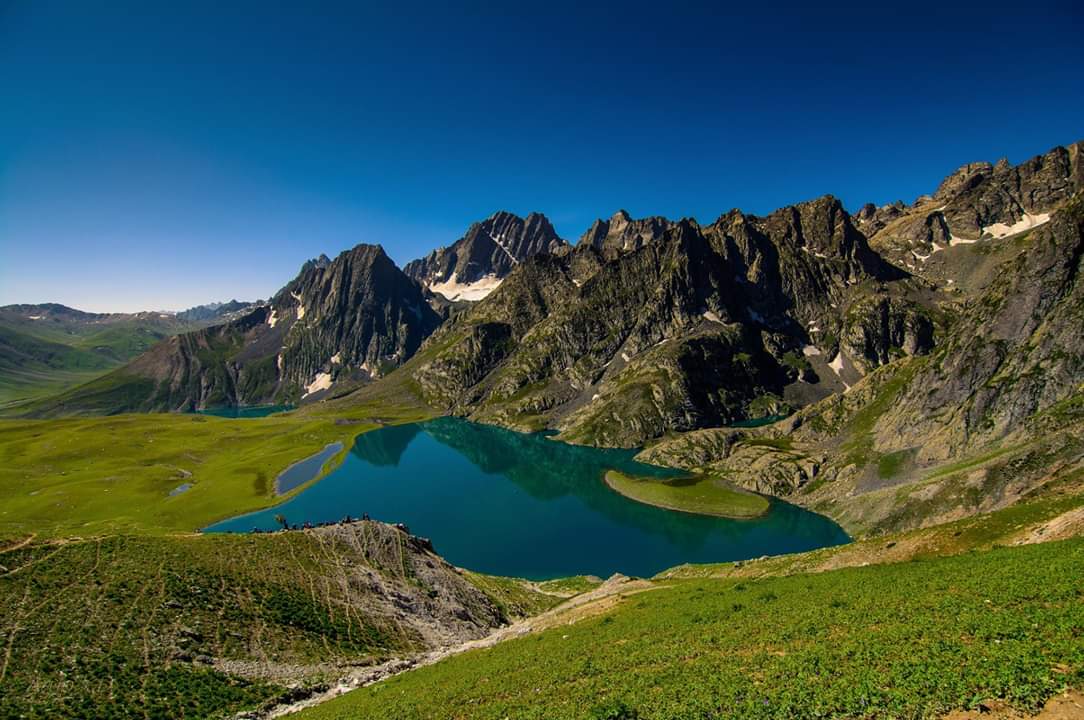 Know about Kashmir: Kashmir is a name that evokes sentiments...
Read More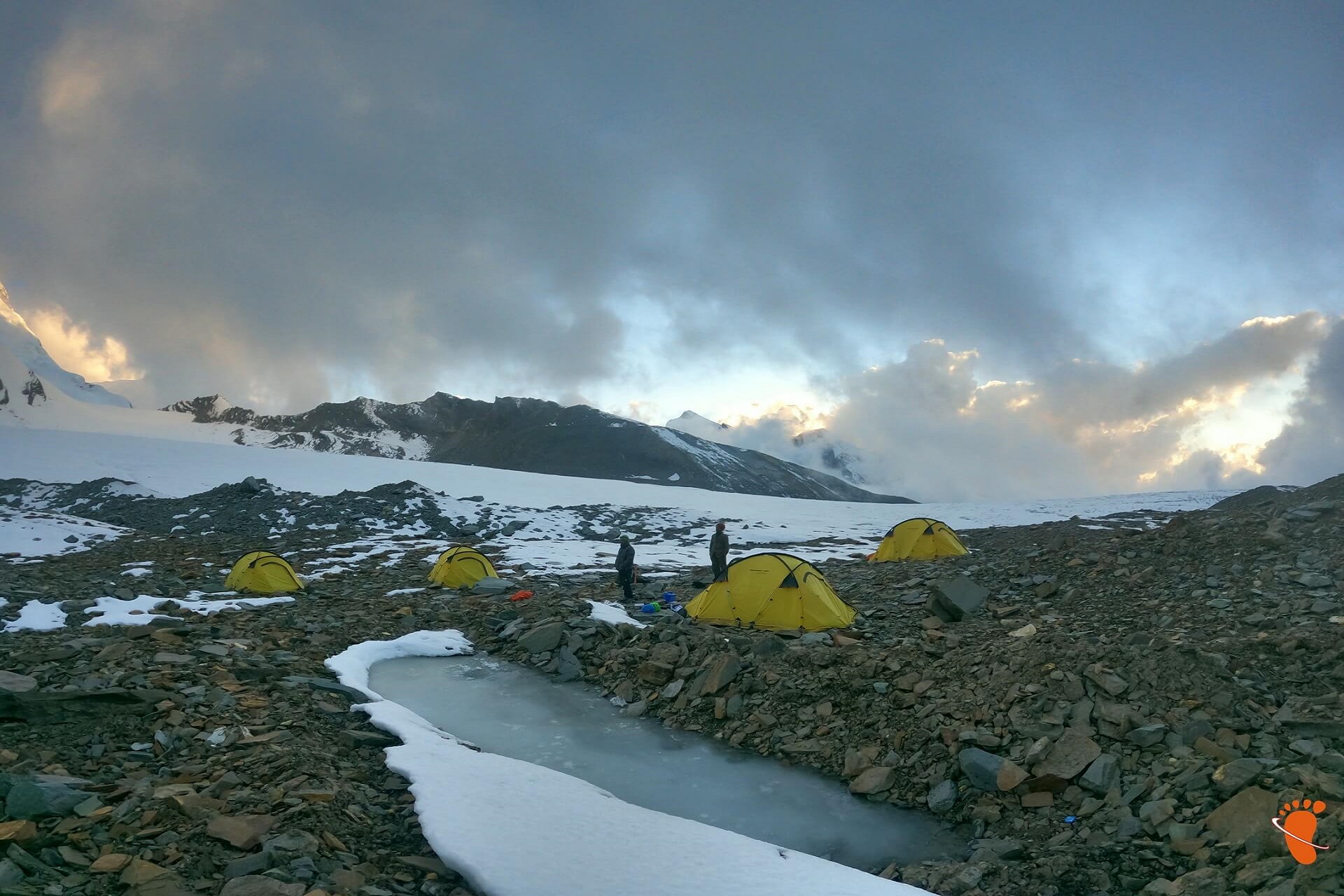 My Journey Towards The Mighty Black Peak Expedition Where are...
Read More